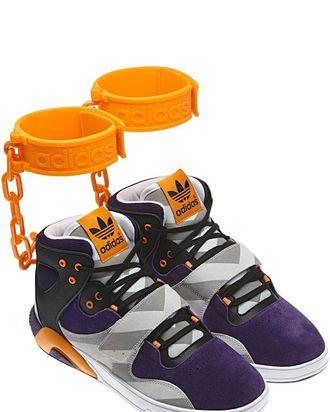 Not for sale.
Photo: Adidas/Facebook.com
Adidas issued an apology on their Facebook page yesterday after thousands of commenters excoriated a pair of sneakers they produced with designer Jeremy Scott. The shoes, titled the JS Roundhouse Mids, drew controversy because they featured bright yellow handcuffs — or, as some believed, "shackles" alluding to slavery — attached to the heels. The photo caption on Adidas's Facebook page stated, "Got a sneaker game so hot you lock your kicks to your ankles?"
The sneakers were initially advertised to drop in August, but in the wake of all this negative attention, they won't be sold at all. Adidas released the following statement:
The design of the JS Roundhouse Mid is nothing more than the designer Jeremy Scott's outrageous and unique take on fashion and has nothing to do with slavery … We apologize if people are offended by the design and we are withdrawing our plans to make them available in the marketplace.
Those familiar with Scott's designs might conclude that the cuffs had more to do with S&M than racism. But anyway, Jeremy Scott's rainbow unicorn bodysuit will hopefully be available soon, in which case all will be forgiven.