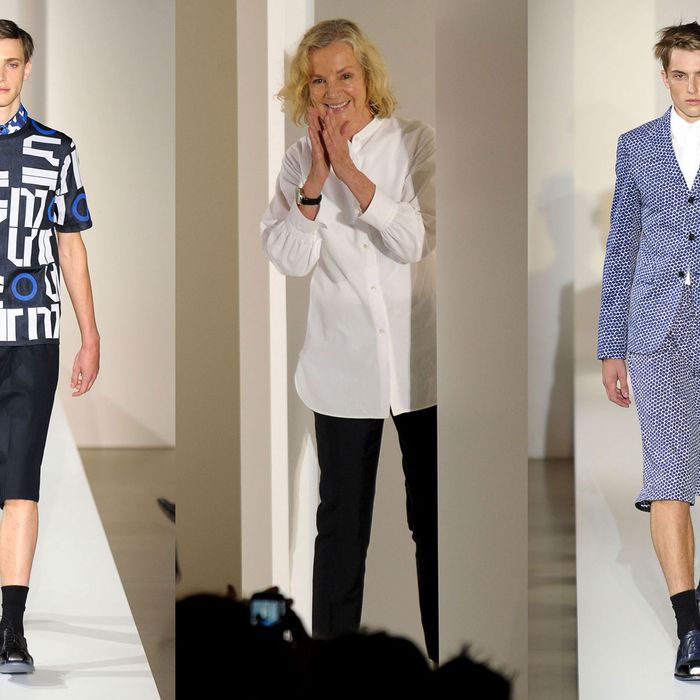 Jil Sander, plus looks from her spring 2013 menswear collection.
Photo: Imaxtree
Jil Sander presented her spring 2013 menswear collection in Milan on Saturday, her first runway show since returning to her namesake label in February. Just as her return brought excitement — but not too much, of course, since this is the queen of minimalism we're talking about — her collection was met with controlled enthusiasm and praise across the board. Everyone was prepared to swoon over Sander's highbrow influences and uncomplicated shapes, and according to critics' reports, the collection fulfilled expectations. From the Times's Guy Trebay:
A series of beautiful graphic sweaters in Mondrian colors were followed by shirts reminiscent of the artist Caio Fonseca's patterned-tape paintings. Dot-patterned suiting called to mind aboriginal dreamtime paintings or the work of the Japanese artist Yayoi Kusama.
Sander didn't try anything radically new with tailoring, instead sticking to skinny ankle-length pants juxtaposed with floppy, wide-legged shorts that fell just below the knee. Her jackets were boxy and either cropped to the hip or falling to mid-thigh. There were a lot of starchy white shirts buttoned all the way up, a longstanding Sander tradition also favored by Raf Simons. Meanwhile, the color palette was a pared-down mix of black, white, and bright cobalt blue punctuated sparingly with yellows, greens, and deep red; the details on the shoes and accessories, like laces, soles, and zippers, were color-coordinated with the outfits. Patterns included simple linear prints and polka dots.
The models themselves had slightly messy hair with razor-straight side parts, as though their mothers had brushed their heads with water and stiff bristles before sending them off to church. Indeed, the whole vibe seemed like that of a gaggle of schoolboys in their Sunday best, with their skinny ankles protruding from their pant legs, their little necks buttoned into their collars, and their wide sleeves protruding past sharp elbows. In other words, Mama Jil is back, and she means business.
See the Complete Jil Sander Spring 2013 Menswear Collection.