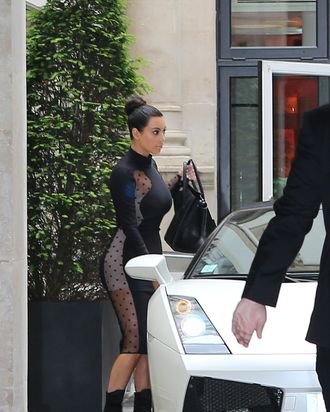 Seriously.
Photo: FameFlynet, Inc.
Known Spanx-enthusiast Kim Kardashian stepped out in Paris on Monday wearing a dress from Stella McCartney's fall 2011 collection. It's similar to one that Kate Winslet wore more than a year ago, but Kim's version had beige fabric peeking through the sheer part, leading the Internet to believe that her shapewear was showing! This, friends, was not so. On her website yesterday, Kim wrote a post titled "Stella McCartney… No Spanx Here!" reading, in part:
I've seen some publications saying I'm flashing my Spanx or control underwear underneath the dress … but that's exactly how I bought it with those nude panels inside. So no Spanx here! Stella made a full collection with these sheer panels on the side, and this is how my dress came. Xo
We called Stella McCartney's Soho store, and a salesperson confirmed that some of the dresses from that season were lined. Some! Anyway, it really does look like Kim forgot about the sheer panel and threw on the dress over her Hide & Sleek Slim Cognito Trust Your Thinstincts Body Smoother, so we'll continue to have a good laugh about it.