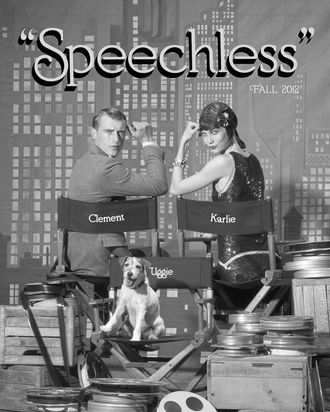 Karlie Kloss, Clément Chabernaud, and Uggie the Dog for Americana Manhasset.
Photo: Americana Manhasset
After teaming up for a fifties-themed photo shoot that debuted this spring, Americana Manhasset and Karlie Kloss have joined forces once again, this time for the Long Island luxury shopping center's fall catalogue, titled "Speechless." The campaign pays homage to silent films, specifically Oscar-winner The Artist — the movie's four-legged star, Uggie, even appears in the ads (along with model Clément Chabernaud). The catalogue will be released mid-August and will be accompanied by a short (and, of course, silent) film to be broadcast on Taxi TV during Fashion Week. See all of Kloss's ads and more in our fall 2012 campaigns slideshow.