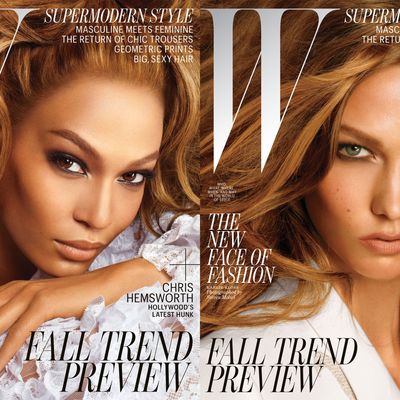 Joan Smalls and Karlie Kloss, photographed by Steven Meisel.
Photo: Courtesy of W
W put Joan Smalls and Karlie Kloss on their two July covers, hailing them both as "The New Face of Fashion." In the corresponding interview, Kloss discusses her height (6 foot, 1 inch in her bare feet): "I'm eight inches taller than the average person walking down the street. I'm somewhat in my own cloud," she explains. "Every time I see Karl Lagerfeld, he's always like, 'Karlie, have you stopped growing yet? Are you taller?'" While such proportions would turn most humans into gangly, stumbling giraffes, Kloss credits her formal ballet training for curbing any awkwardness. "You learn to control every aspect of your muscles, your face, your toes, your fingernails," she says. Fingernails! We chewed off a hangnail earlier this morning, but that's probably not what she means.