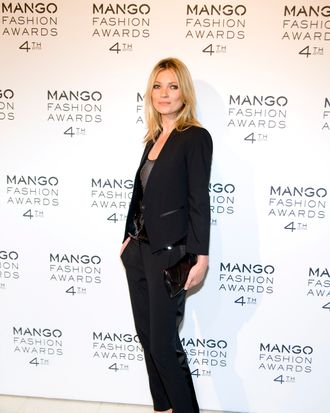 Kate Moss, zippers done.
Photo: Miquel Benitez/WireImage
The latest issue of Grazia features an uncharacteristically lengthy interview with Kate Moss, who, at this point, has given enough "rare" interviews that we can probably stop talking about how infrequent they are, despite the fact that she seldom says much or speaks in complete sentences in any of them. Anyway, Moss gave some innocuous quotes that have already made the rounds on the Internet, like how she won't dress "like a wife" or wear heels to walk her dog. The full Grazia issue arrived today, revealing a few more noteworthy tidbits, like how she's considered wearing horrible things just to see if people will imitate her:
People try and tempt me to do that. They're like, "Everyone will be copying it, and it will be hilarious. Do it!" But. I'm not tempted … [I worry,] 'Are they gonna put it in all the magazines?' Ha! But no. I haven't done it on purpose, anyway.
And speaking of wardrobe problems, it turns out that she has a beastly time with zippers.
Zips. I've got a problem with zips. Sometimes I just for get to do them up! Running out the door! You know … Just zips!
She then asked her interviewer, Grazia's Polly Vernon, what she was planning to wear to the Mango Fashion Awards that night (obviously, the whole interview was pegged to something Mango-related), which left Vernon totally "gobsmacked." Kate Moss wanted to know what she was wearing? And then it turned out that, by total coincidence, they were both planning to wear tuxes! Like twins! Then again, perhaps she put that bit in the article just so that people wouldn't think she's another one of those gullible copycats.