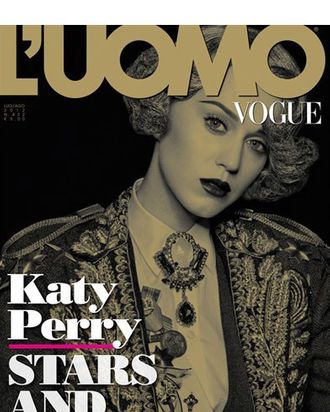 Kim Kardashian isn't the magazine's only July/August cover girl. Katy Perry posed for L'Uomo Vogue, too, wearing an ornate jacket and the minimum number of pieces of flair. Inside, she's asked about her admiration for Madonna and Alanis Morissette, President Obama's support of same-sex marriage, and her upcoming "autobiographical docu-film in 3D," Katy Perry: A Part of Me. She also had this to say about her sense of style:
[It's] like an ever-evolving mood ring. However I feel when I wake up is exactly how I dress. It's many different things because I feel many different things and almost feel like I have multiple personalities inside of me and want to express them all at different times or sometimes all at the same time. I generally just like to have fun and sometimes I'll imagine and create a world and try to dress like that thing I've created for 6 months or so. Right now, I'm really into the fairy nymph, white witch, goth vibe.
And ghosts. Really into ghosts.