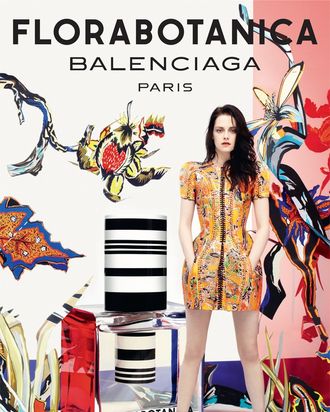 Fun times.
Photo: Balenciaga
Nicolas Ghesquière asked the actress to front the brand's new scent back in January, and since then, she's fulfilled her brand ambassador duties with several pairs of exciting pants. Now, the fragrance has a name (Florabotanica) and a drop date (September), and "includes a vetiver, amber and caladium-leaf accord, and a (hybrid) rose, carnation and mint accord," according to WWD, who also recently spoke with Stewart:
"I'm very lucky that I like the fragrance, because I would have done anything with [Ghesquière]," [said] the 22-year-old. "And I'm a terrible liar."
She was apparently "relieved" upon smelling it.
"There is something natural about it," explained Stewart. "It's very alive. I think that as a young person wearing it — considering that I've never worn a scent — it kind of puts you on this level of, like, "Whoa, check me out.'"
And what about the ad campaign? It was photographed by Steven Meisel, and, as WWD points out, she "stands fairly straight-legged, with her hands in her pockets."
"I think that's kind of perfect for this particular ad. Usually, a fragrance ad would definitely be like," said Stewart, striking an exaggerated, sexy lounge pose on the couch. "When I first stood there, I was like, 'OK, do you want me to show the curves of the dress? Do you want me to stand like this? Like that?' And they were like, 'Just be comfortable.'"
Oh, so that's her comfortable face.