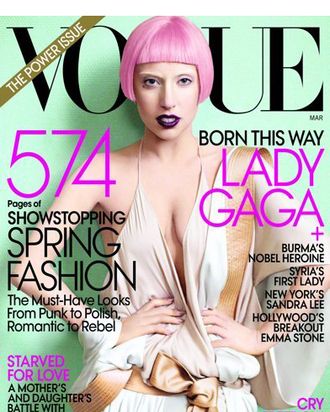 Lady Gaga's first Vogue cover, shot by Mario Testino.
Photo: Mario Testino/Vogue
Lady Gaga already has her second Vogue cover in the can, according to WWD. She'll reportedly front the magazine's September issue, pegged to the fall release of her first-ever fragrance (rumored to be called "Monster" and smell "of blood and semen"). This cover comes a year and a half after her first Vogue treatment in March 2011, which had her posing for Mario Testino in Haider Ackermann and a pastel-pink wig. That cover sold like gangbusters on newsstands and helped Vogue annihilate its competitors, ad-page-wise, in 2011. 
Gaga's forthcoming cover has reportedly already been shot by Mert Alas and Marcus Piggott, and it'll surely have a very different vibe from her first one. Maybe she'll use it as a launching pad for a new "look" or alter ego, as she did with Vogue Hommes Japan and Jo Calderone in 2010? If so, what will her new direction be? She's already done the pale, eyebrowless thing for several covers, so she won't repeat that. Obviously, prosthetic facial bones and motorcycle torsos will not be tolerated (not that they were within the realm of possibility, but still). What hair color hasn't she tried yet? Maybe they'll get crazy and dye her hair brown, put her in a fluffy strapless dress, and plop her down on a nice, boring beige sofa for a change.