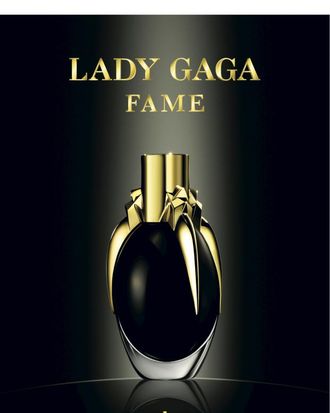 Lady Gaga Fame, photographed by Steven Klein.
Perfume is always a weird thing to hype because there's no way to convey exactly what it's like until you let people sniff it for themselves. Lady Gaga's doing her best, though, by publishing a long press release about her forthcoming fragrance, called Fame, on her website today. As previously reported, it comes out this September, and the ad campaign was directed and photographed by Steven Klein; the bottle (shown) was designed with Nick Knight. 
The actual scent itself, which Gaga has described as smelling like everything from "blood and semen" to an "expensive hooker," sounds very complicated. According the the release:
Lady Gaga Fame is the first ever black eau de parfum that sprays clear and becomes invisible once airborne. The black-to-clear fragrance is a fantastic innovation of patent pending fluid technology, exclusively launched with Lady Gaga Fame …

The innovations in Lady Gaga Fame go beyond the black-to-clear fluid: The olfactory structure itself is also very rare for the fragrance industry. Traditionally, perfumes have a pyramidal structure — a hierarchy of sorts with top, middle and base notes. This fragrance, on the other hand, has a unique structure called the "push-pull" technology, where the ingredients interact together to highlight different olfactive aspects of each note at the same time, without any hierarchy. All of the notes were crated to work together harmoniously thanks to the complimentary properties of each ingredient, which allow for a true metamorphosis of the scent when worn on skin.

The scent is built around three main accords: dark, sensual, and light. The dark accord was inspired by Belladonna, the deadly nightshade possessed by haunted beauties since the 18th century. From this darkness, the fragrance evolves to a sensual accord of opulence, a fusion of dripping honey, saffron, and apricot nectar. And lastly, the light accord whispers magnificence. The rich floral layer of crushed tiger orchid & jasmine sambac embodies timeless beauty. The accords work together to create a fragrance of floral and fruity elements, with the star ingredient inspired by Belladonna leveling out the whole fragrance and giving Lady Gaga Fame its signature as a scent.
Translation: It looks black in the bottle but won't stain your clothes, and it smells like honey, saffron, apricots, orchid, and jasmine, which sounds nice.