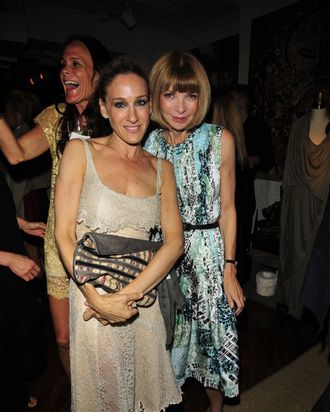 The photo in question.
Photo: Patrick McMullan, Inc.
While the whole world makes a big to-do about tomorrow night's Obama fund-raising dinner at Sarah Jessica Parker's apartment, we've noticed that one particular photo has been on heavy rotation for various international news outlets — namely, this picture (shown) of dinner's co-hosts, Parker and Anna Wintour, taken a year ago by Patrick McMullan at the Stephan Weiss Apple Awards. There are many photos of these two together, so why this one has been enjoying such overwhelming popularity is anyone's guess, but we'd like to think it has something to do with how adorable Julie Gilhart looks in the background. She's just so happy! Surely the folks in charge of tidying up Parker's apartment yesterday made the exact same expression when someone asked them to carry a piano down the front steps.