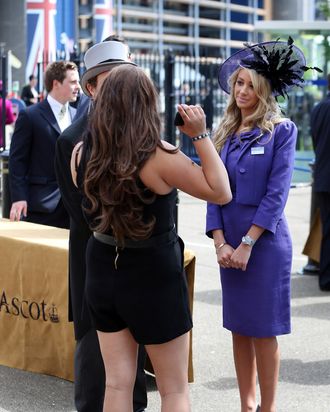 This woman got a fascinator, pashmina, and tie.
Photo: Peter Macdiarmid/Getty Images
As promised, 30 employees lined the entrances to the horse races, ready to hand out free fascinators, pashminas, and ties to attendees who broke this year's new dress code. The fashion police themselves wore purple dresses with matching cropped jackets and feathered hats, black pumps, badges that read "Dress Code Assistant," and expressions that read "I don't think so." One of the women they pulled aside was Anneka Tanaka-Svenska, clad in "a strapless short white dress with pantaloon trousers by HMH Couture and an elaborate bird cage-style hat," the Press Association writes. Tanaka-Svenska said, "I always turn up with the biggest hat. And at least this one is covering my head." Ho, ho! That's just some saucy Royal Ascot humor for you.