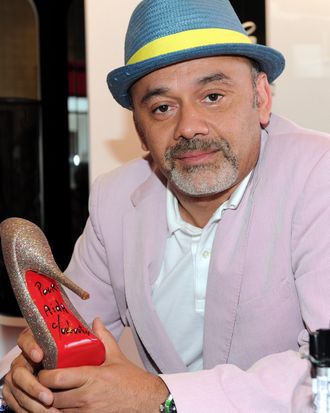 Christian Louboutin.
Photo: Alberto E. Rodriguez/2010 Getty Images
A French judge ruled in favor of Zara last week in a lawsuit filed by Christian Louboutin regarding his red-sole trademark, according to WWD. The suit began in 2011, when Louboutin tried to bar Zara from selling a particular pair of $70 red-soled heels because they might create "consumer confusion." The judge  initially sided with the plaintiff, but after Zara challenged the decision, the court of appeals ruled in June 2011 that Louboutin's trademark registration was too vague (it was suggested that he might specify a Pantone number instead). Last week, the Cour de Cassation upheld the court's June decision and sentenced Louboutin to pay Zara £2,500, or about $3,600. This hardly makes a dent in Zara's legal fees, but it's yet another blow to Louboutin's red-sole trademark, which has suffered a beating in courts over the past year. The shoe designer is currently in the process of appealing a similar case against Yves Saint Laurent that he lost in New York last summer.