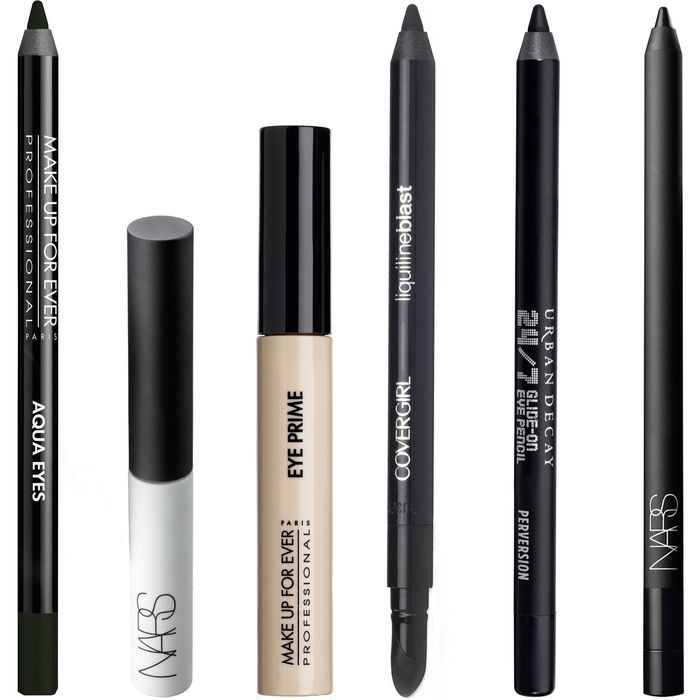 I've never been much for eyeliner, mainly because I like to keep my "getting ready" regimen — whether day or night — to under three minutes. The Cut's producer, Sally Holmes, on the other hand, wears black eyeliner on a daily basis. But even though she's been devoted to the look for ten years, she has yet to find a product that doesn't smear by mid-afternoon. So for the last week, for Sally's sake, I've tested an eyeliner pencil (liquid liners will be another post, another day) every day and here's what I found out: 
Make Up For Ever Aqua Eyes Water Proof Eyeliner Pencil #01: This brand immediately came to mind because the company got its start  making cosmetics for the Paris water ballet. The liner had to last, right? Well, it didn't. While it stayed in place along my lower lashes (no panda action here), it crept into the crease of my eyelid within the hour. I tried it again later, but this time I dabbed on the brand's Eye Prime first. It totally worked. The "fixing" polymers in the primer grabbed ahold of the liner and truly did not let go. Bonus: the primer acts like a concealer, evening out the skin tone on your lids.
Nars Larger Than Life Long-Wear Eyeliner: WIN. This liner was the week's all-star. Zero flake-age on the bottom lid, and there was no movement on the upper. It's just full-impact color that stays put all day long.
Urban Decay 24/7 Glide-On Eye Pencil: The brand's latest addition to this line is a matte blacker-than-black shade called Perversion. While I loved the intensity of the color (there was no shimmer, not even that sheen that some liners tend to give off), the liner was jammed up in my lid's creases within the hour. So I decided to try again, but this time I layered it over Nars Smudge Proof Eyeshadow Base, and that seemed to do the trick.
Cover Girl LiquiLineBlast: Without a primer base, this liner is going to take you straight to panda-eye town.
Make Up For Ever Aqua Eyes Water Proof Eyeliner Pencil #01, $18, Sephora
Make Up For Ever Eye Prime, $22, Sephora
Nars Larger Than Life Long-Wear Eyeliner, $23, Nars 
Nars Smudge Proof Eyeshadow Base, $24, Nars
Urban Decay 24/7 Glide-On Eye Pencil, $19, Sephora
Cover Girl LiquiLineBlast, $8.79, Online