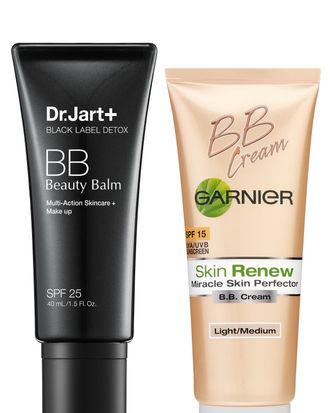 BB creams from Dr. Jart and Garnier
Photo: from left: courtesy of Dr. Jart, courtesy of Maybelline
Welcome to our new lunchtime beauty post, where I'll give real, non-cheesy solutions to your cosmetic queries. No topic is too weird, petty, or gross. My job is to help you look the way you want, regardless of what that means.
Judging by the sheer volume of questions that I've been bombarded with since my arrival, Cut staffers have been beauty-deprived. (In the past week, I've furnished Charlotte with enough moisturizing products that she could fill a bathtub, and Sally has graciously volunteered to be my de-frizz-product guinea pig.) For the next few weeks, I'll be answering my co-workers' queries about all things hair, makeup, skin, and so forth. After that, you can submit your beauty questions in the comments section. (Bear in mind that I am not a licensed dermatologist, plastic surgeon, or therapist — but I'll do my best.) 
Okay, onto today's topic: WHICH BEAUTY BALM SHOULD I BUY? And yes, that question was e-mailed to me in caps. Like I said, beauty-deprived.
Let's clarify one thing: Beauty balms — also known as BB creams, which have recently hit the U.S. market after enjoying huge success in Asia — are not foundation. If you're looking for fuller coverage, this stuff isn't for you. That being said, most beauty balms are created equally. By definition, they're a lightly tinted moisturizer with added treatment benefits, plus SPF usually ranging from 15 to 30. Basically, your budget dictates your options. My favorite version that costs under $15 is Garnier BB Cream Miracle Skin Perfector, which is available in two-shade options (Light/Medium and Medium/Dark). On the higher end of the price spectrum is Dr. Jart+ Black Label Detox BB Beauty Balm, the latest from the Korean skin-care line that originally sparked the BB craze in Asia. Is it worth it to spend more on this product? The ingredients are basically the same, regardless of price, but the higher-end stuff might blend more smoothly.
Garnier BB Cream Miracle Skin Perfector, $12.99, mass retailers.
Dr. Jart+ Black Label Detox BB Beauty Balm, $36, Sephora.