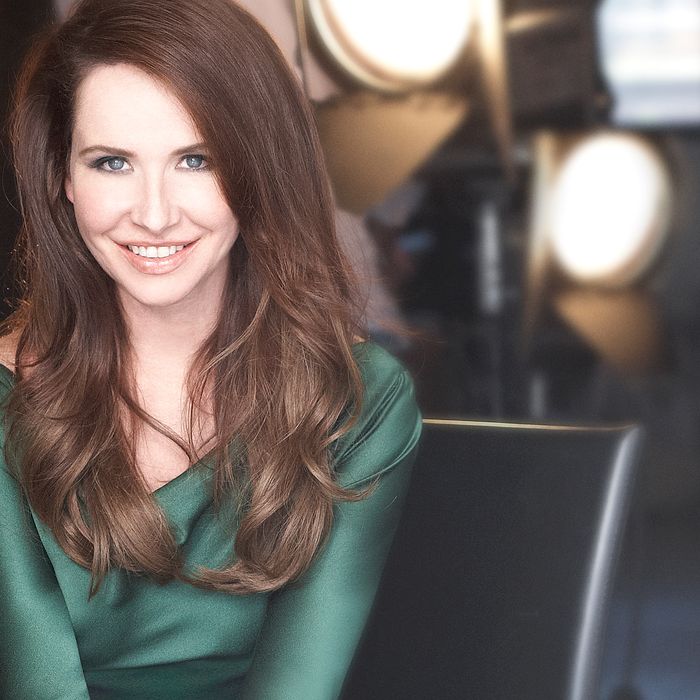 Janie Bryant, photographed by Palma Kolansky.
Photo: Palma Kolansky
We've been breathlessly recapping Janie Bryant's brilliant costume choices throughout this season of Mad Men, from Sally's go-go boots to Trudy's endless peignoir collection. We caught up with Bryant yesterday in the wake of Sunday's finale to pick her brain about the symbolism behind her wardrobe selections (Joan's floral prints: What do they mean?). Read our Q&A here, and see her comments on each character in our slideshow.
This season had a much brighter color palette. Why was that?
They have been a little bit brighter this season. One of the biggest challenges is to merge the seasons together seamlessly but also show the passage of time. And it's always about making sure the costume design shows that naturally and is done in a realistic way. This season, we've moved forward in time, and as the sixties progress, the colors have gotten brighter.
We didn't get to see Betty last night, but she's gotten a lot of attention this season because of her weight gain. How did that affect her wardrobe?
I've really loved Betty this year. I think there were only two of her costumes that I didn't design and build from scratch, so it's been a great season for that. I've always had so much compassion for her character. I think the audience may not care for her, but I always feel like she's just so unhappy. The costume design for her is always about her façade of perfection, and there is always an element of the classic lady. But this year, it's been so different because she has a different figure now, and she's struggling with her weight gain, and that affects her in how she wears her clothes.
There was a big shift in Megan's wardrobe this season when she left Sterling Cooper Draper Pryce to pursue acting. Was it disappointing that you couldn't dress her in those great office outfits anymore?
I know a lot of people really miss seeing the office Megan and all of the beautiful costumes she'd wear out to dinner, but it's important to tell that story of the change that she makes during the season when she decides to become an actress. Also, I want her costumes to tell the story of the age difference between her and Don. It's almost like she and Sally are more compatible in the way they dress than she and Don are.
It's interesting that Megan dresses so differently from all the other female characters when they're at home. Joan, Trudy, and Betty all wear these very ornate house robes instead of just casual pants and a sweater.
Well, Trudy wears peignoirs because she's going to bed early, and she's taking care of the baby. Also, we want to show that she's not waiting for Pete to come home, and she's already getting ready for bed. But I love the peignoir moments. And Megan does have her own pajama moments, too, like last night, we saw her stumbling around drunk in the same robe that she wore in the first episode when she's cleaning the house after Don's birthday party. She's more modern, and she's not in the lacy, quilted, pastel peignoir — she's in her hip, 1960s floral nylon robe with a sexy little chemise underneath.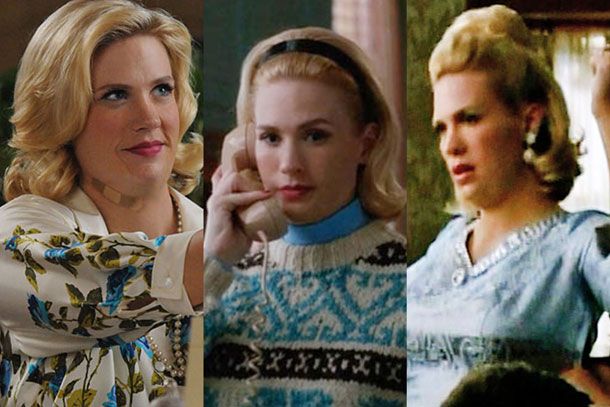 Betty Francis
"Wasn't that ski sweater amazing? Not only that, but she was wearing vintage quilted ski pants for that scene. We didn't get to see them as well as we should have. I go nuts for vintage sweaters, particularly the knits of that period. I also loved the dress that I designed for her in episode three, when she makes her first appearance — that silver and blue brocade dress that was too tight. I loved how Betty looked in the room. I had actually designed another dress for her for that same scene that was pink and gold brocade, but I wasn't happy with how the colors worked with the wallpaper that the production designer had put in that room, so I had to design another dress for her quickly. It was so important for her color palette to work with the set in that scene, since it was such an important moment when we first see Betty."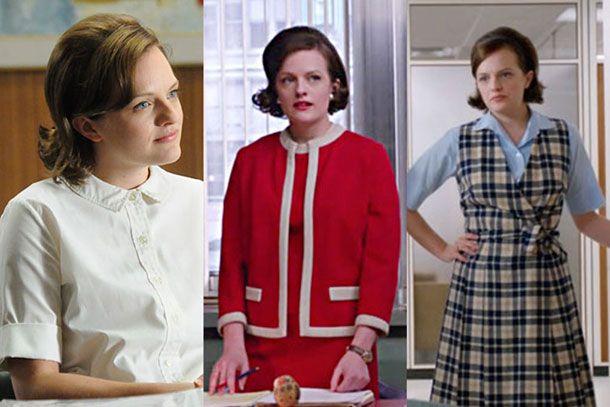 Peggy Olsen
"All season, Peggy's been working, working, working. We've pretty much only seen her at the office, and she's been undervalued and unappreciated. The significance of Peggy wearing all those different button-down cotton shirts is about her assimilating to menswear and her being a worker bee and trying to fit in with the men in her office and be part of the group. And at every turn, she is pushed aside because she is not a man. And then, when quits her job at Sterling Cooper Draper Pryce to work for Ted Chaough, there's this pivotal moment where she arrives. So it was important to show that she is a strong woman in the finale and that she can now look feminine and still be very powerful. I got to watch that episode on a big screen recently, and it really took my breath away to see her in the office, in that scene where she's bossing those male employees around in her red power suit."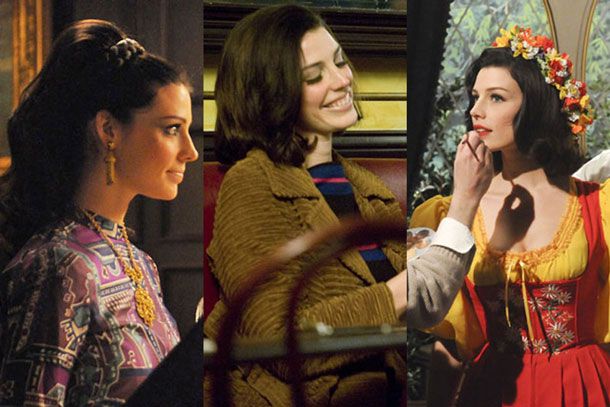 Megan Draper
"I really wanted to use a lot of color for Megan, but there are also moments where she's worn black — like for this past episode when she's really sad and struggling, and she wears that black sweater. It's really about those contrasts for her. The last half of this season has been in the wintertime, so she's worn a lot of sweaters. I love the significance of all the knitwear at the home, because she's more casual and cozy, and she's being an artist. I see it as Megan's true self. She's not posturing. Also, I don't know if you noticed last night, but she was wearing her bell-bottom jeans — her pants had a slight flare to them, as did her pants in the scene where she and Don get in a fight and she throws the spaghetti. They're sort of rebellious."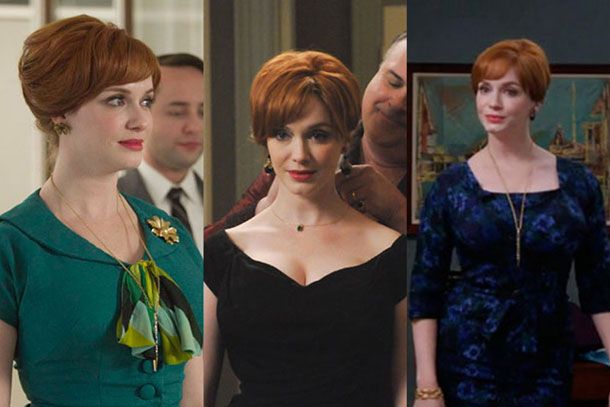 Joan Harris
"With Joan, it's all about those deep, rich jewel tones and the strength of that character. In episode eleven, a lot of people noticed that she wore a lot of purple, but it was actually more about the floral prints. Especially for Joan, floral prints represent the strength and the power of femininity. And in the final scene in that episode, she's in a green dress that I designed for her, because that's the color of money — which really tells that story of her getting the partnership at the firm and being able to support her family. My favorite Joan dress this season is the one she wore in episode twelve — it's a navy dress with little red acorns on it. I put a border of red on the hem of that dress, and we never got to see it onscreen, which is such a pity, but it happens in filmmaking. Anyway, it was meant to be Joan's nod to moving forward, since it had a mod aspect to it."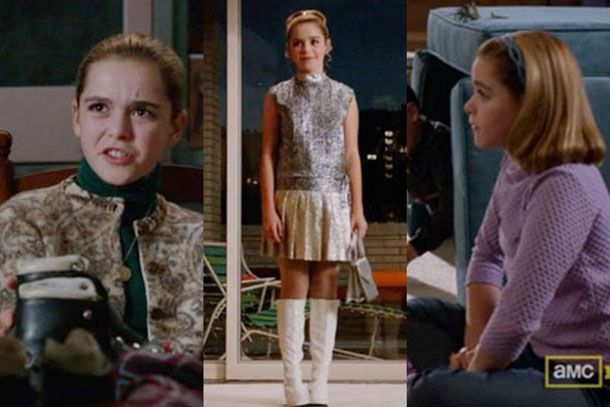 Sally Draper
"I loved the silver lamé drop-waist dress with the pleated skirt that she wore to the party in episode seven. It was actually a dress that I found at a vintage store and had remade for her. It was an adult dress, you know, for a grown woman, and for that scene, it was all about Sally being a grown-up and going to this party. For Sally's costume design this season, there was a contrast between when she was at Don and Megan's house and when she was at the Francis house. At the Francis home, she has these restrictions and constraints, in contrast to her friendship with Megan and being more relaxed at her dad's house, where she's really becoming a young woman. Also, I loved those white go-go boots. They're genuine go-go boots from the period. I always love to get shoes for Sally Draper. Now Kiernan [Shipka] can wear a women's size-six shoe, so she fits into practically every vintage shoe ever. We have a lot of fun with her footwear."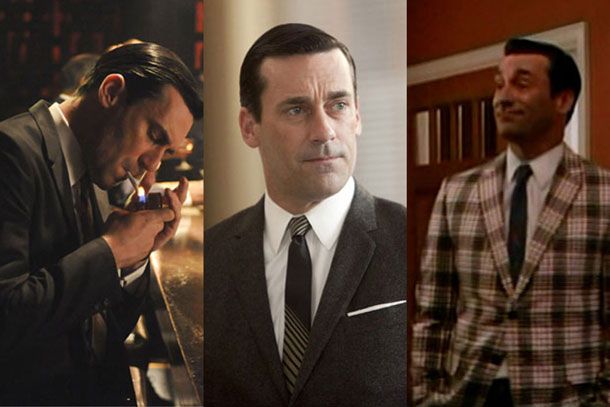 Don Draper
"I loved when Don wore the plaid sports coat at the Campbells' dinner party. I designed the coat specifically for that scene to show Megan's influence on him. But I think my favorite Don Draper moment is in the finale episode, when he's leaving Megan on the set. I love that dark, rich suit and the tie on him. He looks so stunningly handsome and dashing."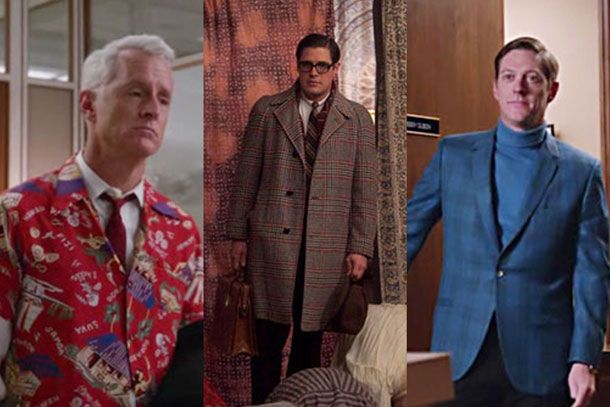 The Men
"It has been a great season for the sports coat on many of the male characters, and I've loved every plaid moment. There have been so many opportunities to see the male characters outside of the office, and I really wanted to use those opportunities to show their different sides. I'm a big fan of Ted Chaough's turtlenecks and sports coats. I am obsessed with men in turtlenecks! It was such a big part of the period, and Ted Chaough is the perfect character for the turtleneck-and-sports-coat combination. I also have him wearing Beatle boots to further illustrate his pretentious nature."