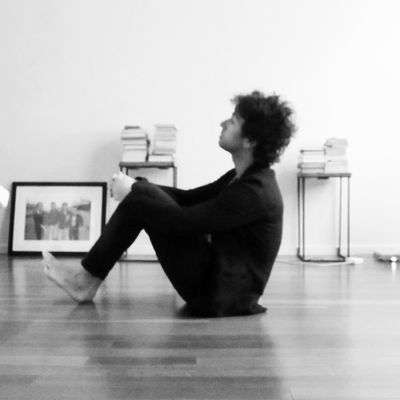 Matthew Daniel Siskin.
Photo: Courtesy of Matthew Siskin
Matthew Daniel Siskin is the founder and creative director of designedmemory, the design studio behind Beyoncé's new website and integrated Tumblr and Twitter hub. If "design studio" sounds vague, that's because the scope of Siskin's work is indefinable: By helping brands create their online presence, he's often making over their image altogether, whether that means redesigning their logo or tweaking the font on their blog.
Siskin began his career after studying digital design and interactive media at Pratt, when Chris Benz — an old friend — asked him to create a website for Benz's then-nascent fashion label. The timing was perfect: Fashion brands were just starting to understand the importance of online presence, and Siskin's list of clients grew quickly. "We've just never had to pitch," he said. Before he knew it, Mary Kate and Ashley Olsen came knocking in 2009, wanting him to make The Row's first website; he's also created sites for Albertus Swanepoel, Alice + Olivia, Erin Fetherston, Suno, and Lorick, and he's currently working on a site for jewelry designer Irene Neuwirth. We spoke with him over the phone about  Beyoncé, web design trends, and shopping, among other things, while he was wandering around in Soho last week.

Do you even define yourself as a web designer?
At one point I did, but not anymore. Now, I'm more like a weird creative director who gets involved in lots of different things. We don't even have a service listed on our website. Yes, we've done lots of digital and lots of web, but our clients want other things too, so we don't limit ourselves.

How did you get started in this field?
I just didn't really want to have a real job, and a lot of my friends were fashion designers and all starting out. Chris Benz and I went to Parsons together for a summer program when we were 16, and we stayed in touch. Then he called me up one day and was like, "I'm starting my own line, and I need a website." At that point I was essentially coding everything myself, and charging next to nothing — just doing it to pay the rent. But it was great, because I could just focus on music and whatever else I was doing. I loved the freedom that it gave me and I really enjoyed it. From there it just started to snowball. One brand turned into another one and another one.

How did you meet your business partner, Kyle Camping?
We met about three years ago, and he was like, "Well, you have a really great thing here, but you need a business around you, so I'm going to help you build that." It was the same time that The Row had just called me to do their website, and I wanted to do it but I realized I couldn't do it by myself. That was a big turning point where I was like, "Okay, let's get serious." 

It sounds like everything just fell into your lap.
Really great people called us, and we've done the work that we care about. It's how we've always taken clients. I think it was really helpful that I wasn't really focused on the big bucks early on. 

How do you pick your clients?
It's that initial meeting where you get the impression they want to take risks. Like, "I have this brand and I'm essentially going to put it in your hands and trust you to run with it." A lot of really huge brands might not be able to step outside maybe what they're doing at the moment. Maybe I wish they would, but if they can't, then that's not the project for me. I want to grow and learn and challenge myself too in the process, so it's got to kind of be that for both people. I'm the first person to recommend my competitors in meetings if it's not the right fit. It really comes down to, "Am I going to enjoy doing this for the next six months?" 

So tell me about how you got on Beyoncé's radar.
We were on a short list of agencies, and got called in. In the past year or so, she has really taken over every facet of her business. She's making all these creative decisions. So we were on a list and we came in for a meeting and showed designs. It went really quickly from there. She knew immediately that we could work together and she could really get involved. 

Is it an ongoing relationship?
Yes. We're going to continuously add new things, and it's an ever-changing project.

Was it crazy to work with someone who has that kind of star power?
Oh my god, yes. It was a very new experience. You know, working with The Row, we worked side by side with Mary Kate and Ashley, and there were paparazzi outside our meetings and things like that, but with Bey it's on a whole different level. You forget she's this international superstar when you're in a meeting. She's essentially an awesome, creative person that you're collaborating with, and you forget just how insanely huge she is. The scale of the new site is wild — it was viewed like 16 million times in the first week, and just kept going and going. It's really intense and awesome to have lots of eyes on it.

Do you carry on relationships with lots of clients?
Some of them. I've worked with Stacey [Bendet, of Alice + Olivia] for like, four years now. I would use her as the ultimate client example. She's so hyper-creative and always e-mailing me inspiration photos from wherever she is. We seasonally revamp their site and we redesigned their logo and everything. We essentially do all of their brand work outside of their company. Now we're actually just starting a new partnership where I'm going to be sort of a creative director at large underneath her, building a digital team there and doing a lot of fun branding stuff. We're going to launch a new site in the next few months.

Are there web design "trends"?
Totally. I see them all the time. Right now it's all about the scrolling trend. It's called Parallax — when you scroll down the page things move. Also, everyone's doing really simple CSS layouts which are beautiful and very eye-catch-centric. That's everywhere. But my problem with all of those trends is that they're designed for the web, but now the web can be anything. If cars could fly, why would you choose not to? I think that's why I love this job so much. Or this part of my job, because it's like, "What can't we do? Let's just go crazy." Let's just do something new and ignore the trends — what's logical? What's human? How do people think? 

Any trends you'd like to see?
I think it should be more about images than words. I don't think anyone's reading much online anymore when it comes to brands. It's less about their bio page and more about these visual stories and sharable experiences. Tibor Kalman is my favorite designer ever. He worked with Colors magazine for a long time, and he did one issue that had no words in it. It was so powerful, and you get so much from it. I'm excited to see the web go that way.

What about your own personal aesthetic? How do you dress?
Clothing-wise, I like super simple and classic. I love things that feel like they could be really old but aren't trying to be, and new designers who don't mess with the classic things like a great suit. One of my favorite designers is Obedient Sons and Daughters. I did their site but I loved them before that. Unfortunately, they're no longer in the game, but I thought they did the best stuff. 

Do you shop online mostly?
Actually, I very rarely shop for clothing online, which is ironic, obviously. I've got to put it on, and feel it, you know, really find it. I go to Amarcord on Lafayette a lot, which is a vintage Italian store. They have great jackets and strange things that don't look new or old. They just feel right. I think Rag & Bone has great things. I'll mix Rag & Bone with Uniqlo. Alexander Wang makes great T-shirts. I have a ton of them. Really thin and really simple.

How do you recover from staring at a computer screen all day?
I try not to stare at a computer screen, actually. Back in the day, I was just more involved in the coding of sites, so I had to put in a lot of computer time. And I still do. But now, when I'm designing, I can do that anywhere. I'll take my oversized Moleskines — they're really huge, like 13 inches — and I'll just sit and sketch and do the majority of my work in different places. I love renting hotel rooms and staying in them for a few days. Sometimes for different projects I feel like I need to change my environment. 

Really?
Yeah. The Lafayette House is my favorite place to stay in New York. I'll always go there and hide out because it feels like a house. 

Do you have any other tactics for getting inspiration?
I'm really into music, so I write songs a lot. I break up my time with a lot of different projects throughout the day, some of which involve being at a computer but a lot don't. I'm a little bit ADD. I also have a Tumblr [designedmemory.tumblr.com] that I use to express different things. I often kind of try to hide my art in my client work.

Is there any kind of web design that you really hate?
Totally. Well, I hate the word webby. But I also hate those little navigation images, like all that clutter in your bookmarks bar, and text everywhere. There's no feeling, and it's flat, like a PowerPoint presentation. I know there's a time for design and there's a time for utility, but I think there's still a design choice you make with everything. Google is so simple, but at the same time, what they do with their logo is so brilliant because it's the simplest way to get the vibe immediately.

Can you tell me about your upcoming projects?
Yeah, we're launching a new site for Irene Neuwirth, the jewelry designer. But in the big picture, I'm slowly venturing away from the web a little bit, and towards more general creative direction. I'm getting away from the computer and into projects that involve retail spaces or concert spaces. New mediums.