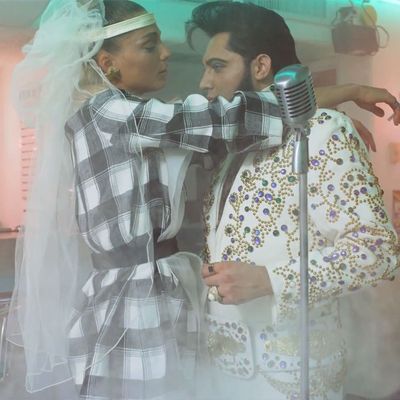 Photo: Inez & Vinoodh/Vogue Paris
Last month saw a slew of vibrant videos from the fashion set, including Phil Pinto's home visit with sixties style icon Peggy Moffitt. Inez & Vinoodh captured Daria Werbowy's Vegas love affair for French Vogue, and they took over Versailles with the help of Daria Strokus, Melissa Stasiuk, and Xiao Wen Ju for Dior. Meanwhile, Rick Owens and rapper Zebra Katz had a meeting of the minds for Dazed Digital (and Katz modeled pieces from the designer's fall 2012 collection, including the knitted face cage!), Sean Frank got a behind-the-scenes look at last season's Alexander McQueen show, and Garance Doré continued her "Pardon My French" series in Tokyo. Catch these clips, and more, in our roundup.
Daria Werbowy in Las Vegas by Inez & Vinoodh for Vogue Paris
Here, Daria and Elvis Presley (impersonator Justin Shandor) have a Sin City–style romance and quickie marriage. As they say, what happens in Vegas, stays in Vegas, so perhaps that Stella McCartney spring 2012 dress we spy about a minute-and-a-half in will never be seen or heard from again.
Rick Owens x Zebra Katz for Dazed Digital
For its June issue, Dazed & Confused took Katz to the Owens's atelier to try on goodies from the designer's fall/winter 2012 womenswear collection, which walked to the rapper's song "Ima Read." Katz says, "My first time, I remember watching Paris Is Burning [which inspired 'Ima Read'] and being, like, 'Wow this is awesome, I didn't know about that," and Owens responds, "What you're doing is taking that culture and taking that history and revitalizing it in a smart way, not in like a, you know, Girls Aloud way." Rick Owens knows what Girls Aloud is!  
Secret Garden — Versailles by Inez & Vinoodh for Dior
Watch Daria Strokus, Melissa Stasiuk, and Xiao Wen Ju run through the palace's Hall of Mirrors and into the gardens as they show off the fashion house's latest collection. Their stunt is set to Depeche Mode's 1990 hit "Enjoy the Silence" — jogging at Versailles with New Order blaring in the background is so 2006.
Peggy Moffitt: The Total Look by Phil Pinto
Nowness went inside Moffitt's Los Angeles home, filled with photos of the sixties fashion icon. Of her famous, topless monokini picture, she tells the camera: "Think of something in your life that took one-sixtieth of a second to do. Now, imagine having to spend the rest of your life talking about it. I think it's a beautiful photograph, but, oh, am I tired of talking about it." Moffitt also points out a bunch of images from the second shoot that Twiggy ever did, explaining, "The photographer asked me to help her. I'm trying to show her about light and I decided, 'Oh, I'll be the Madonna and this is my baby Jesus.'"
She's Electric by Santiago and Mauricio Sierra
This one's like getting stoned and playing hours of Atari against model Alana Zimmer. In a great way, of course.
Pardon My French: Tokyo with Lady Dior by Garance Doré
The blogger continued her video series, this time in Tokyo, where she visited a series of local artists who decorated her white Lady Dior handbag. (The first cut, or in this case, Sharpie, is the deepest, dear viewers.) The end result: a calligraphied, studded, Manga'd, charmed, and eyeballed creation — and Garance getting drunk at karaoke.
Alexander McQueen A/W12 Backstage Film for Dazed Digital by Sean Frank
Double up on the Dazed videos: In this clip, the magazine presents a behind-the-scenes look at last season's McQueen show, accompanied by a soundtrack of someone sighing, which seems fitting.
Dulce de Reliquias by Maria Romero
Sarah Burton's new protégé filmed her graduate fashion collection for the San Francisco Academy of Art University on handmade dolls, instead of holding a runway show. Nowness writes, "The golden maquettes in Romero's short have heads of clay, hair from Peruvian lambs, and bodies wrapped in silk organza, chiffon, taffeta and tulle to mimic the texture of" dulce de reliquias, traditional Mexican candies.
Schiaparelli and Prada: Impossible Conversations by Baz Luhrmann
ICYMI: This year's Costume Institute's "Schiaparelli and Prada: Impossible Conversations" exhibit opened at the beginning of May. And in this teaser clip, Elsa (played by Judy Davis) and Miuccia (played by herself) discuss how much they hate discussing fashion.