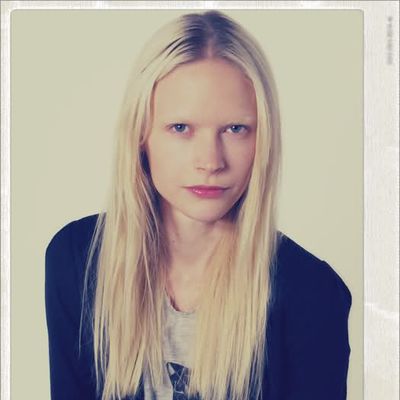 Photo: Courtesy of Ford Models
Last year, Henna Lintukangas walked into her local agency and signed up to model. Soon after, the 24-year-old Finland native booked a dozen shows at Paris Fashion Week, hitting the spring 2012 runways for the likes of Comme des Garçons, Junya Watanabe, Maison Martin Margiela, and Rick Owens. For fall 2012, she racked up another thirteen slots in the City of Light, adding Givenchy and Viktor & Rolf to the mix. Now, the Ford model is in Manhattan shooting several soon-to-be-released editorials and anticipating Couture Week in July, calling the outfits "super, super expensive and beautiful, and like nothing I can wear in my normal life." She stopped by our offices last week to chat over coffee (one of her "obsessions") about age in the industry, backpacking through Asia, and wishing she'd met Michael Jackson.
Tell me about your childhood in Finland.
I am from a really small town, but I've been moving around Finland a lot. It's a lot of countryside, and growing up, there were horses, farmland, and it was really the middle of nowhere. Summer is perfect in Finland; in the winter, it gets pretty cold, but summer is perfect. My mom worked in a shopping mall, my dad owns his own company. I have one sister and one stepsister and one stepbrother, but they are all older than me. I am the youngest. Then, we always had a dog.
When you were growing up, did you look at fashion magazines or anything of that sort?
I always loved reading magazines, but I never thought, I'm going to work with fashion later. It wasn't like that, but I've always loved beautiful things and clothes. I liked shopping and stuff – I wasn't crazy about it, but you know, normal.
So, what did you do before modeling?
Before that, I was working in a beauty salon, I was a cosmetologist — doing facials, manicures, and pedicures. I didn't do it that long because I was allergic, only for one year. I knew that it wasn't my thing, and I was saving my money because I wanted to travel, but then I got the allergy, and I thought, This is funny. It came at the same time that I was going to stop.
So then you decided to backpack? You went to Southeast Asia, I read.
Yes, and India. I started from Thailand. I had a one-way ticket to Thailand and no plans. And then I went to Malaysia, Indonesia, Singapore, and India. All with a friend for like nine or ten months. We stayed at guest houses — they're cheaper than hotels. It was amazing, and I want to do it again. Now that I've been to Asia, I want to go to Africa, and South America next.
Tell me how you were discovered.
Well, I went to the agency. People kept telling me, "You should try it, you should try it," and then I was like, "No, I'm not sure," but at the time, I was living next to the model agency Modelboom, so I went in. I was turning 23.
What do you think about age in the industry?
I feel really old in this industry. Most of these girls are 16, and I'm like, Ooo-kay, I'm so much older. But I've heard a lot of people think that it's good that I'm not 16. They like it more … I know Kati Nescher, and we talk about age, and there's also Saskia de Brauw — she's [31]. So, I'm not even that old! [Laughs.] And they also started even later. When I was 16, I wouldn't have liked [modeling], I don't think. I just know that I couldn't have done it, moved outside of the country and lived alone.
Tell me what your first show was like. Were you nervous?
I think it was Thimister. Yes, I was nervous because I didn't really know how Fashion Week even worked. I was just like, Yeah, let's try it, and I got put in so many shows! It was amazing, I wasn't expecting it. But I was nervous in every show … I'm always scared with the shoes. When I started, I basically learned how to walk a few weeks before — I went to the agency every day and walked back and forth. I wore a lot of heels in my free time. I had to get used to that.
Are there any shows that have stood out to you since you started?
Well, my favorites have been Rick Owens. The shows are amazing, in a big space, and the collections are my style, very cool. And Rick is cool. He's really quiet, but he's cool.
And you wore that cage over your face, right? What was that like?
Itchy! [Laughs.] But it was okay. And, yeah, the season before, I had almost the same outfit but different material.
Who would be your dream photographer or your dream magazine to work with?
Italian Vogue — working with Steven Meisel is good for your career, and he's so talented. But I like Dazed & Confused, and i-D. And Terry Richardson. I don't know why — but I've seen his work, and it's really different. He's interesting.
If you weren't modeling, what would you be doing?
Well, that's actually why I started modeling, because I didn't know what to do. I want to go to a university. I was going to study the French language, but then I didn't because I started modeling. But one day I am going to do it, but I don't know where.
What's your beauty routine like?
Well, I clean my skin every day. I don't go to facials. [Laughs.] I could do that to myself if I really wanted to. I think cleaning is the most important. Then I believe that what you eat is more important than creams. You don't really have to use expensive creams, it's more your lifestyle and how you live. You have to sleep a lot, and don't smoke or drink. That's it.
What are some of your obsessions?
Asian food, I think. I could eat sushi for breakfast. And coffee. The cups here are so huge, so I don't know how many coffees there are in one. I have maybe one in the morning, one in the afternoon … so three? Or four a day? It depends. But in Paris, I drink espresso. They are tiny but strong.
If you could meet one person, who would it be?
I think Michael Jackson. When I was a child, I was a Michael Jackson fan. I didn't even know if he was he or she, so I asked my sister, "Is he a boy or a girl?" [Laughs.] Yes, I was a huge fan, I had a lot of CDs, and now he's dead. I didn't have a chance to meet him, but I would love to.
And do you Google yourself?
Not really, no. Well — not lately. [Laughs.] I don't know. I'm scared to see what's there.
Model Profile: Henna Lintukangas
Explore other rising stars (plus all the big names) in our extensive Model Manual, featuring runway pics, glamorous editorials, model bios, career timelines, and more.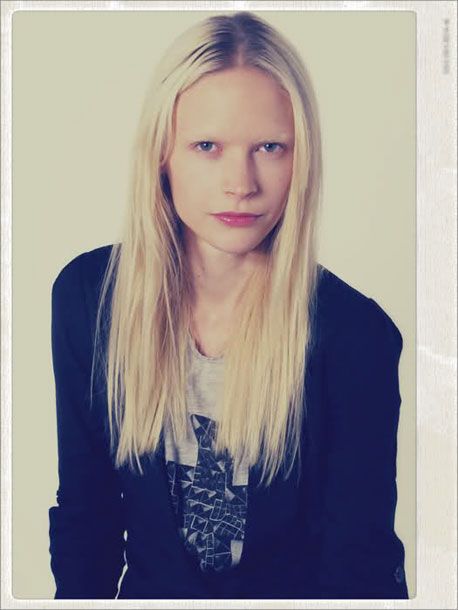 Head shot.
Walking the fall 2012 Rick Owens show in Paris.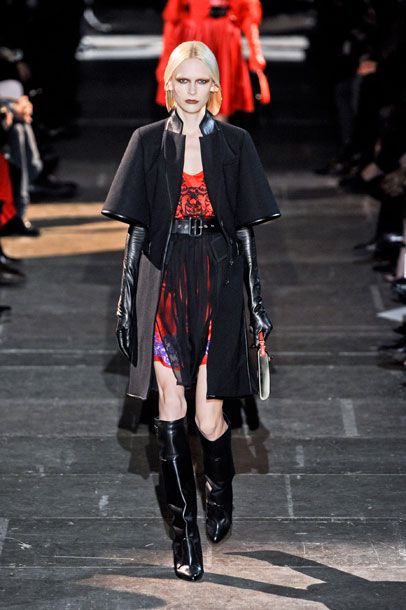 Walking the fall 2012 Givenchy show in Paris.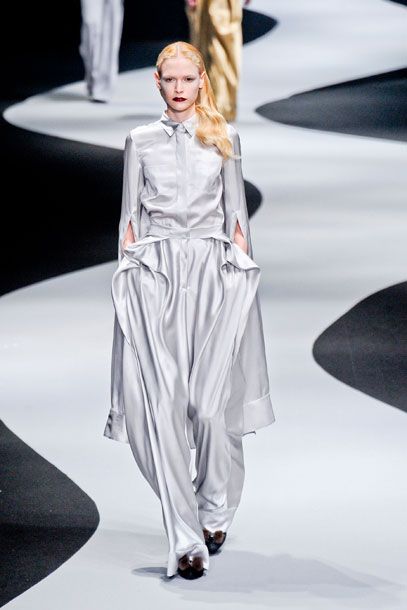 Walking the fall 2012 Viktor and Rolf show in Paris.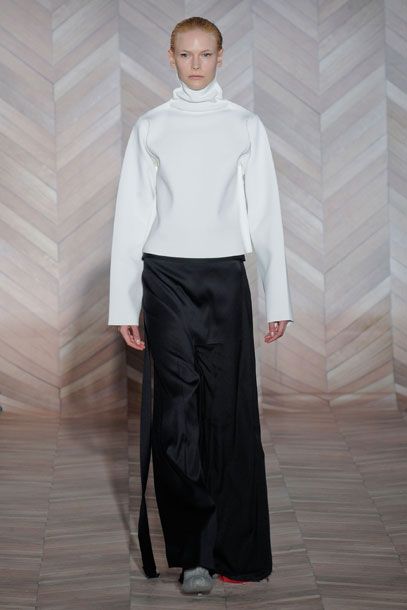 Walking the fall 2012 Masion Martin Margiela show in Paris.