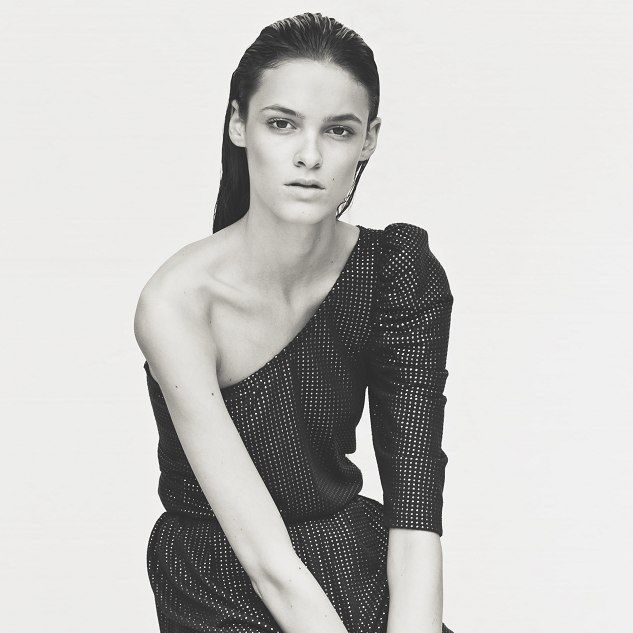 Photo: Courtesy of Ford Models
It's sometimes hard to remember that Kremi Otashliyska is only 16 — although she's still mastering English, the Bulgarian beauty recites Oscar Wilde quotes like it's second nature (her favorite, she says, is The Picture of Dorian Gray gem, "Nowadays people know the price of everything and the value of nothing"). But since making her runway debut closing the Balenciaga fall 2012 show, she's been just as preoccupied with preparing to get her driver's license as she has landing editorial shoots. Luckily for Otashliyska's career, the latter has come much easier to her than the former; while she admits that she hasn't yet mastered the rules of the road ("I tried driving once but I was bad. My father said, 'If [you don't get your license] I can always get you a chauffeur"), in just a few months she's booked jobs for Numéro, AnOther, and W, and worked with Steven Meisel on the Balenciaga resort look book. During a recent visit to our office, Otashliyska filled us in on the stresses of modeling, wanting to be a young mother, and the reason why she watches Scarface on repeat.
Tell us a little about your childhood.
When I was in Bulgaria I think I had one of the best childhoods. Not like now, with Facebook and everything; no, I was outside, climbing. I grew up with bruises and stuff [laughs]. My childhood was basically me and two girls, and I was the really controlling girl. I would say, "If you don't do this we won't play!" I was really mean.
How did you get discovered?
In Bulgaria my father has a friend whose wife has an agency there. She said, "You should do this!" I was like, "Okay, let's try." So I did a test in Bulgaria — I was 14, I think — and they sent it to Barcelona because that was basically where I was living. In Barcelona, View Management liked me, and from there Ford liked me.
What was going through your head the moment before you walked down the runway at the Balenciaga show?
I was really, really nervous. I was like, I hope I don't fall. The floor was made up of lights and when you stepped on them you felt like you were going to break them — and then [doing it while wearing] high heels! But once I was on the catwalk I was like, Oh that feels nice.
Did you ever practice your walk?
Maybe just a bit, when I was wearing high heels or something. But you can't really learn how to walk. It has to be natural; either you have it or you don't.
Has anything surprised you about modeling?
It's really hard. Many people think that you just stand there in front of a camera being pretty, but it's not; you have to wake [up] early, you have to go to castings, you have to meet a lot of people, you have to always look perfect no matter if you slept or not. Sometimes you work more than 12 hours, or you're arriving someplace at the airport and you just go [straight] to work.
What do your friends back home think about it?
Not that many know [because] I don't really like to tell. I'd like to tell them when I'm really famous! Now they're beginning to know because they ask, "What are you doing in New York?" They're really happy for me. But most of my friends are boys — I don't like girls, I have only two or three friends who are girls. [Girls] are very fake and I don't like fake people.
Let's talk about things you do like. What is your favorite…
Movie? Scarface. I really like it because it shows a part of life — I mean, not a lot, but … I like guns, I like that type of action movie. Oh, and I really like The Notebook!
Musician? House music and Bulgarian music. Now that I'm in New York, I'm beginning to like R&B.
Book? Roald Dahl. Charlie and the Chocolate Factory and The BFG, they're cool books.
Food? Bulgarian — it's like Turkish food. I also like junk food, like McDonald's. Oh, and every day I eat chocolate!
Artist? Angelina Jolie. She's the prettiest woman in the whole world.
Do you consider yourself pretty?
No … I mean, I don't know. Maybe … yes … but I'm really critical about myself and other people. I'm a perfectionist, so I'm okay but I don't like my legs. I want them to be fatter, they're too skinny.
What's your biggest secret?
I own a lot of shoes for my age — maybe 30 pairs? But I don't wear them all, I just wear two or three. That's what always happens! My favorite pair are tiger [print] wedges, they're nice and comfortable.
Do you have a life motto?
I can talk forever about life — like, "You have to do this and this." But basically, life is hard for everybody. It doesn't matter if you're rich or if you're ugly or if you're poor. There's this thing in Bulgaria which we say: To be the first one is hard, but to remain the first one is harder.
Where do you see yourself in 10 years?
I'll probably have one baby. Or maybe two — it depends how it goes. I want to be a really early [mother], at 21, 22, I want to have a baby. Many people say, "I don't have time for a baby." That's a really stupid thing for me because it's just a baby; it's not like you're dying or something.
And where do you see yourself tomorrow?
I'm going to buy shoes because I found really nice shoes from a really cheap store. I'll go buy them and then I'll go hang out and relax!
Model Profile: Kremi Otashliyska
Explore other rising stars (plus all the big names) in our extensive Model Manual, featuring runway pics, glamorous editorials, model bios, career timelines, and more.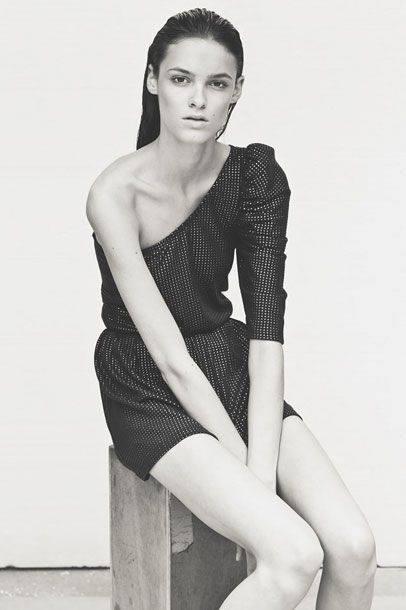 Test shot.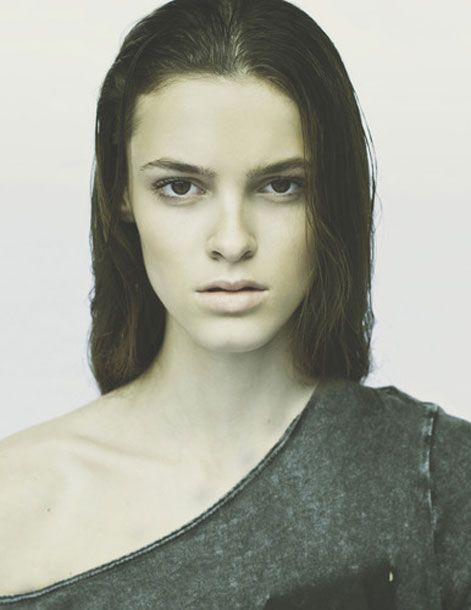 Head shot.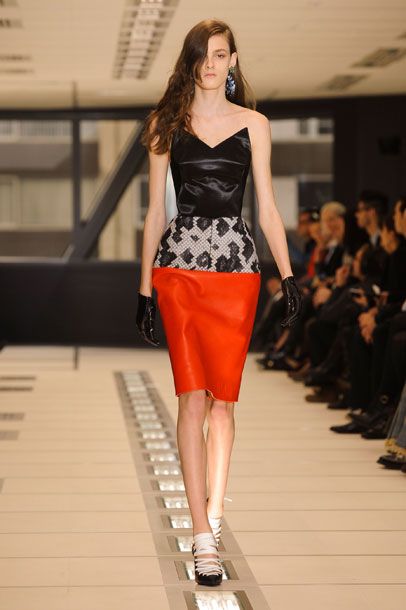 Closing the fall 2012 Balenciaga show in Paris as an exclusive.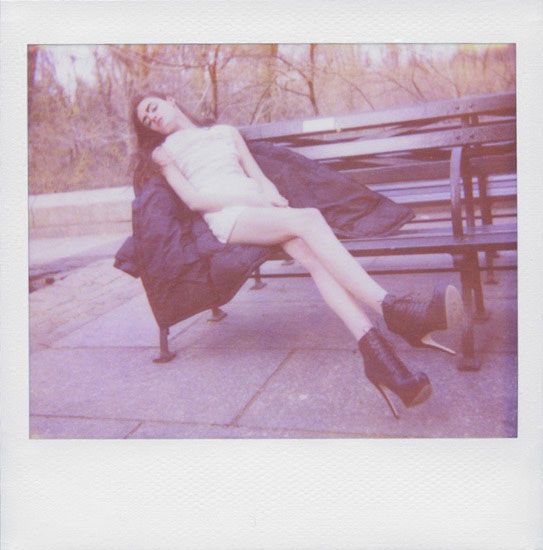 Polaroid.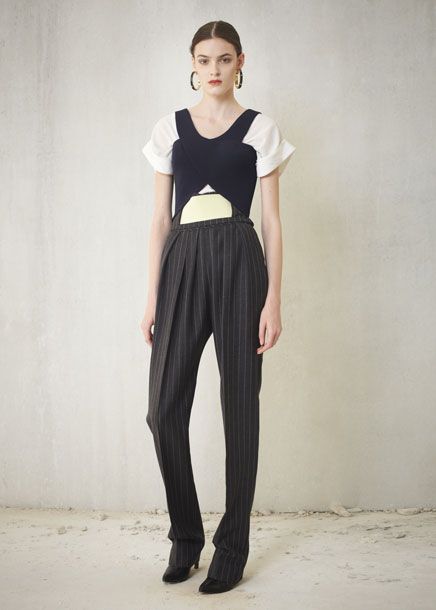 Appearing in the Balenciaga resort 2013 look book.