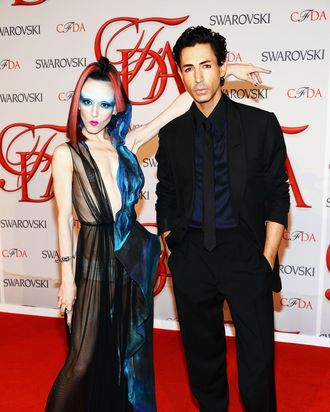 Michelle Harper and Christian Cota.
Photo: Dimitrios Kambouris/WireImage
There's no question that Michelle Harper succeeded in being the most outlandishly dressed guest at last night's CFDA Awards, which she attended with designer Christian Cota. "I wanted to be edgier," he explained at the Swarovski After Party at the Top of the Standard, pointing to Harper's dress. Apparently that was less of a priority for her. "He wanted to be edgy and I kept screaming 'More naked,  more naked!'" she exclaimed. Did she feel naked enough in the finished result? "I would take off my underwear and be a little bit more naked, but that would be a no. Christian put down the law and I'm happy for it," she said. Is she um, comfortable? "Forget about comfort," she scoffed. "Comfort is sweatpants, and you don't show up to the CFDA in sweatpants. Not in my book. And when I say 'more naked' there should be no shame in the human body. Christian is an artist and the entire dress is made to celebrate and embrace the female body!" And with that, off she went into the crowd.