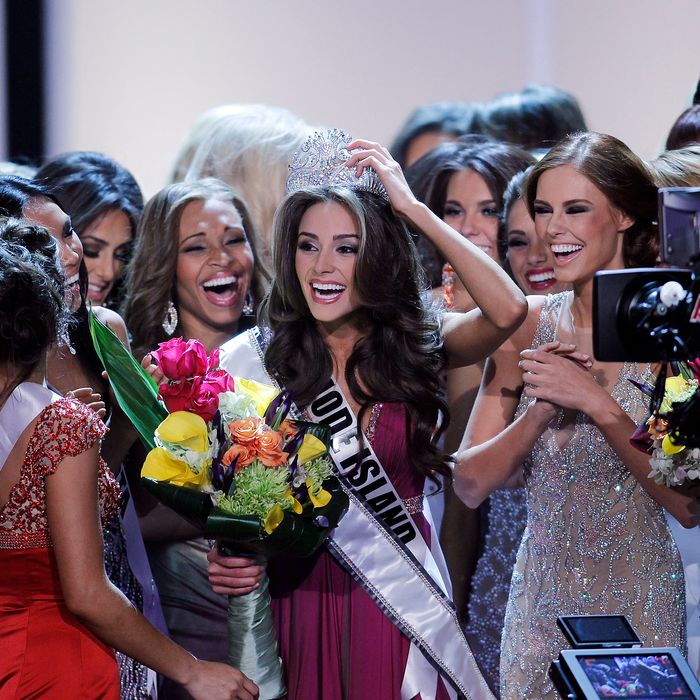 What a sham.
Photo: Isaac Brekken/Getty Images
Miss Pennsylvania USA Sheena Monnin shook up the pageant world yesterday with an announcement on her Facebook page that she'd be giving up her crown. She called the overarching Miss Universe Organization "fraudulent, lacking in morals, inconsistent, and in many ways trashy," adding, "In my heart I believe in honesty, fair play, a fair opportunity, and high moral integrity, none of which in my opinion are part of this pageant system any longer," hinting at some sort of scandal but leaving her fans hanging until a few hours ago — when she posted again, claiming the competition was rigged!
Many people have sent me messages requesting and at times demanding that I come forward if I know information that has led to my abrupt and surprising resignation. I agree that it is my moral obligation to state what I witnessed and what I know to be true. I will relay to you the reasoning behind my resignation. I witnessed another contestant who said she saw the list of the Top 5 BEFORE THE SHOW EVER STARTED proceed to call out in order who the Top 5 were before they were announced on stage. Apparently the morning of June 3rd she saw a folder lying open to a page that said 'FINAL SHOW Telecast, June 3, 2012' and she saw the places for Top 5 already filled in. Thinking she was just seeing a rehearsal fake top 5 from a previous day she walked away, then realized that it had without a doubt been labeled as the Final Show Telecast, June 3rd. After the Top 16 were called and we were standing backstage she hesitantly said to me and another contestant that she knew who the Top 5 were. I said 'who do you think they will be?' She said that she didn't 'think' she 'knew' because she saw the list that morning. She relayed whose names were on the list. Then we agreed to wait and see if that was indeed the Top 5 called that night. After it was indeed the Top 5 I knew the show must be rigged; I decided at that moment to distance myself from an organization who did not allow fair play and whose morals did not match my own. That is all I know about this. If this contestant would like to step forward as an eye witness and as being the one who saw the sheet with the Top 5 already selected before the judges ever saw the Top 16, then perhaps action can be taken. As for me, I believe her words and I will not encourage anyone to compete in a system that in my opinion and from what I witnessed is dishonest.
And involves Rob Kardashian in some way. Word.