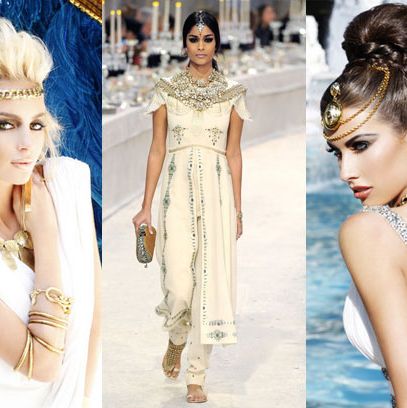 The Miss USA "glamshots," left and right; a look from Chanel's pre-fall show, center.
Photo: from left: missuniverse.com, Courtesy of Chanel, missuniverse.com
The Miss USA Pageant takes place this Sunday in Vegas (9 p.m. ET on NBC, if you're wondering), and you can vote on the contestants right now at your desk based on their photos on the Miss USA website. All entrants have more than a dozen pictures of themselves for your perusal, including a "glamshot" in which they're each dressed in a bizarre mishmash of Indian-slash-Cleopatra-style garb like bejeweled headdresses, bangle bracelets, elaborate braided updos, and black eyeliner.
Upon further inspection, the "glamshot" look is not unlike Chanel's Bombay-themed pre-fall collection, which showed models in faux dreadlocks (really just small, messy braids), sparkly forehead ornaments, kohl-ringed eyes, and piles of gold necklaces. The Miss USA website doesn't say anything about the mysterious theme of their "glamshot" photos, so we'll never know for sure if they gleaned inspiration from Karl himself. (Perhaps they had pineapples and a tiny train on set, too?) In any case, it's probably a safe bet that the contestants are not wearing Chanel.