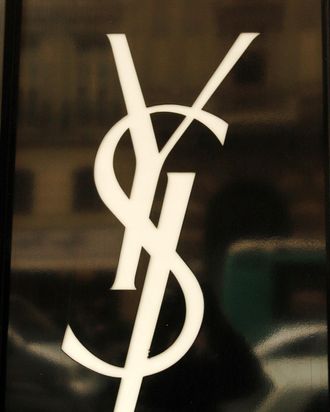 It's safe.
Photo: JEAN AYISSI/AFP/Getty Images
In the wake of this morning's news that Yves Saint Laurent is changing its name to Saint Laurent Paris, a spokeswoman for the label went on the record to explain their decision. Apparently the plan is to restore the brand to its original 1966 version, when the house's founder showed his first ready-to-wear collection. WWD reports:
She said Slimane would return the house to its "original branding" and thereby "restoring the house to its truth, purity and essence — and taking it into a new era" while "respecting the original principles and ideals."
Translation: Slimane will revive fonts and other details from the house's earliest era. In 1966, the label was called Saint Laurent Rive Gauche, so Saint Laurent Paris is apparently a compromise between the new and old names. In other news, the YSL logo is safe because it dates back to 1961, when it was ginned up by graphic designer Cassandre. What folks will actually call the label when they're talking or writing about it remains to be seen, surely rendering fashion people confused and grumpy for the next few months.