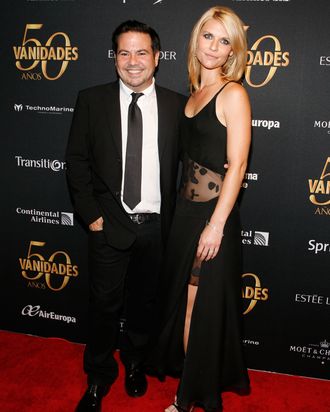 Narciso Rodriguez and Claire Danes.
Photo: Amy Sussman/Getty Images
Now that Target has seemingly cut back on designer collaborations in favor of its new "Shops at Target" model, Kohl's is stepping up to fill the void of cheap designer clothes at a strip mall near you. WWD reports that Narciso Rodriguez, whose relatively small label gained international fame when he outfitted Michelle Obama for election night back in 2008, has teamed up with the retailer to do a one-off capsule collection this fall.
According to WWD's sources, Narciso's collaboration will be the first of several that Kohl's has lined up with various designers. Kohl's has a long-term contract with Vera Wang but has otherwise stuck to celebrity collaborations, namely lines with Lauren Conrad (yes, still) and Jennifer Lopez. The retailer hasn't officially confirmed anything about this new partnership model yet, so we'll hopefully have more information soon.