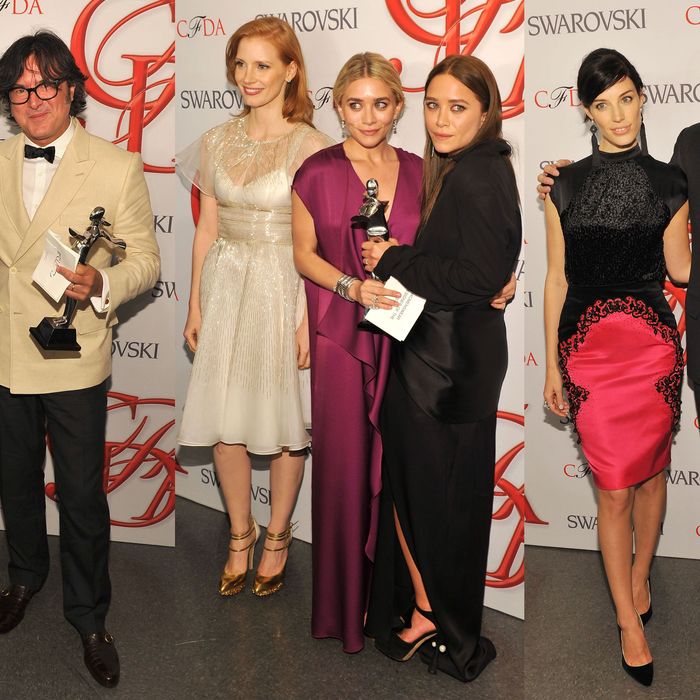 From left: Matt Bomer with Billy Reid, Jessica Chastain with Ashley and Mary-Kate Olsen, and Jessica Paré with Reed Krakoff.
Photo: Larry Busacca/Getty Images
At most fashion events, an enthusiastic embrace consists of two cheek kisses — three if folks are really overjoyed to see each other — and some awkward fluttering that could be construed as a hug. So it was particularly adorable at last night's CFDA Awards when Billy Reid, blushing and stammering after winning the prize for Menswear Designer of the Year, greeted us backstage with a crushing bear hug. As our face was unexpectedly smushed against his jacket, we had a moment of panic that we might smear lip gloss on his lapels, but to our great relief, his clothes emerged unscathed from our embrace. (The award is particularly notable for him, as just a year and a half ago he was a relatively little-known, Alabama-based designer who became the dark-horse winner for the CFDA/Vogue Fashion Fund Award.)
Without further ado, here are all of the 2012 CFDA Award winners and honorees:
Womenswear Designer of the Year Award: Ashley Olsen and Mary-Kate Olsen for the Row
Menswear Designer of the Year Award: Billy Reid
Accessory Designer of the Year Award: Reed Krakoff
Swarovski Award for Emerging Talent in Womenswear: Joseph Altuzarra
Swarovski Award for Emerging Talent in Menswear: Phillip Lim
Swarovski Award for Emerging Talent in Accessory Design: Tabitha Simmons
The Geoffrey Beene Lifetime Achievement Award: Tommy Hilfiger
The Media Award, in honor of Eugenia Sheppard: Scott Schuman and Garance Doré
The Fashion Icon Award: Johnny Depp
The Founders Award, given in honor of Eleanor Lambert: Andrew Rosen
The International Award: Rei Kawakubo
Other highlights (and otherwise amusing and/or weird moments) from last night, in chronological order:
• Anna Wintour's enormous sequined bow.
• The awkward titters following Seth Meyers's John Galliano/bar mitzvah joke in his opening speech.
• The bizarre short film shown before Garance Doré and Scott Schuman's introduction, which they created out of home-video clips sent in by their adoring fans from around the world.
• The intro music for Jessica Paré: "Zou Bisou Bisou." How novel!
• John Waters's acceptance speeches for Rei Kawakubo and Johnny Depp, the latter of whom was "genuinely bewildered," Waters said, by his Fashion Icon title (obviously, his bewilderment makes him that much cooler).
• The look of surprise on everyone's faces when the Row won Womenswear Designer of the Year instead of Proenza Schouler.
• Ashley Olsen petting Mary-Kate's newly brunette hair onstage and the two of them thanking each other in their acceptance speech.
• The look of bloodthirsty joy on all of the photographers' faces backstage when they realized they'd get the Olsens all to themselves at the Winners' Walk step-and-repeat.
• Seeing Grace Coddington lunge through the crowd, red hair streaming behind her, during the reception so that she could get her hands on a chicken-salad-on-toast hors d'oeuvre (literally, she sprinted after the caterer). Yes, we tried one to see what the fuss was about, and no, they were not all that great.
• Seeing Grace Coddington again outside of Alice Tully Hall after the reception, when she trotted right past the line of Town Cars and headed towards the subway. Not that we were following her or anything.