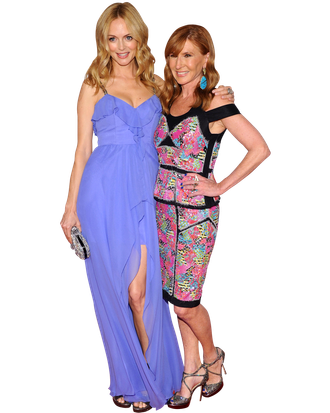 Heather Graham and Nicole Miller.
Photo: Jamie McCarthy/Getty Images
As usual, many designers brought actress friends as their dates to last night's CFDA Awards so that they could be photographed looking pretty together. Nicole Miller arrived with Heather Graham, who wore a custom-made dress by the designer with a shorter hemline in the front. When we pointed out that this was also known as a mullet skirt, both seemed amused by the term. "That's a good name. I'll go for that," said Miller approvingly. Added Graham, "The mullet is a very original and interesting style if you think about it."
Meanwhile, Cynthia Rowley brought Girls star Zosia Mamet, but then lost her once they got inside. While she was surveying the crowd, Bill Cunningham darted by. "Hi, handsome!" said Rowley cheerfully. Cunningham looked up bashfully and responded, "You need glasses! I'm as ugly as a fart!" Just then, Mamet reappeared, to Rowley's relief, and the following conversation ensued.
Rowley: I was worried that I lost you! I was like, oh no! I didn't want to leave you with the piranhas. 
NYM: Do you guys have a buddy system tonight?
Mamet: Yup, we have a bird call thing going on.
Rowley: Ke-kaw! Ke-kaw!
Mamet: Coo coo.
NYM: That was very good. What bird was that?
Mamet: That was a pigeon, I think.
Rowley: Mine was more jungle-y, African.
Mamet: It was a toucan, maybe?
Rowley: Yes. That's what I had in my mind.
See Zoe Saldana, Monique Pean, and more CFDA Awards attendees in the slideshow ahead.