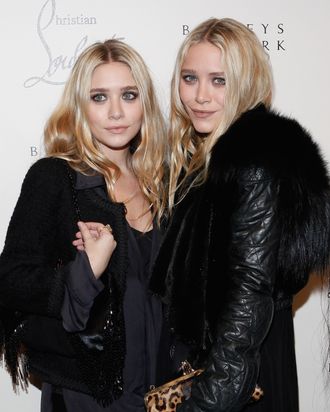 Ashley and Mary-Kate Olsen.
Photo: Cindy Ord/Getty Images
Specifically, "Hairy-Kate" and "Trashley" Trollsen. And the animal rights group's latest gripe relates to the designers' $16,900 fur-covered backpack for The Row. PETA released the following statement to E! News:
If it looks like a troll and acts like a troll, it's probably a Trollsen Twin — or someone wearing one of their new $16,000 totes, which are made from the fur and skins of innocent animals … What the Olsens lack in creativity, they try to make up for in shock value. Sadly, it's the foxes, calves, and alligators — who often have the fur ripped off them while they are still conscious and able to feel pain — who pay the dearest price.
Fashionista points out that the PETA came up with the Trollsen moniker in 2007, and maintains a website upon which you can dress Hairy-Kate and Trashley in various blood-covered clothes. Which is all fine (by fine, we mean terrifying) and clever, but it's time to update with a nickname for Olivier Sarkozy! And "Scarekozy" is too easy.