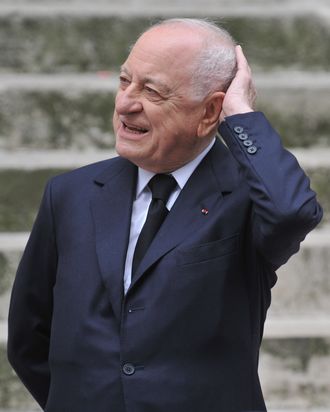 Pierre Berge, satisfied.
Photo: Pascal Le Segretain/2008 Getty Images
Former Yves Saint Laurent CEO Pierre Bergé is tickled pink by all the changes that new creative director Hedi Slimane is making to the label, including its name change to Saint Laurent Paris. This might come as a surprise, since he normally hates what anyone who isn't Yves Saint Laurent — his partner in business and life — creates for the brand (he vocally denounced the work of both Tom Ford and Stefano Pilati). But, in this case, his endorsement makes some sense, since Slimane's rebranding strategy involves reverting the label's aesthetic, including fonts and other details, back to the way it was in 1966 — the late designer's heyday. Bergé tells WWD:
I'm very happy. Anything that makes the house more Saint Laurent is welcome … I am happy that Stefano Pilati is gone, just as I was happy when Tom Ford left.
He's not even upset that Slimane has made what some consider a blasphemous decision to work out of Los Angeles instead of Paris, because, in the end, who cares as long as the designs look good: "The creative studio is in a designer's head, it resides within the person," he said. "Hedi lives in Los Angeles. He should be left to do fashion in a city he likes."
Although Slimane's first collections, women's resort and men's spring 2013, won't be shown to press (they'll be revealed to buyers only from June 28 to July 4 at the Grand Palais in Paris), he's apparently already casting models for his much-anticipated runway debut this fall and has secured a few exclusives.