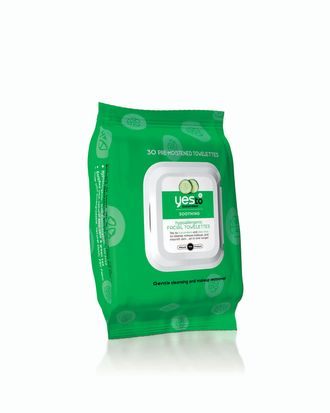 Yes To Cucumbers Facial Towelettes.
Photo: Courtesy of Say Yes to Cucumbers
Dermatologists everywhere agree on two things when it comes to skin: Wear sunscreen, and wash your face before bedtime. It's so obvious — clean off the day's dirt and grime — but sometimes life gets in the way, and the next thing you know, you're waking up with pillowcases streaked in bronzer and mascara. One simple solution: Keep Yes to Cucumbers Facial Towelettes on the bedside table. All it takes are a few quick swipes across the face and skin is instantly dermatologist-approved clean — and hydrated, too.
Yes to Cucumbers Hypoallergenic Facial Towelettes, $5.99, online or at CVS.