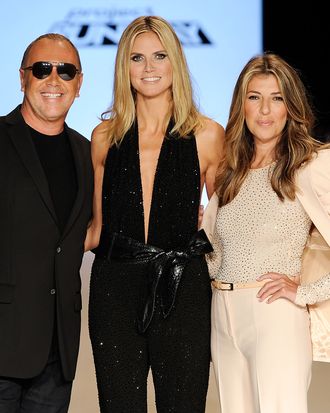 Michael Kors, Heidi Klum, and Nina Garcia. (Not pictured: the shrink.)
Photo: Fernanda Calfat/Getty Images
Well, it sounds like the series's tenth season will be a real doozy. According to the Post, the show had to call in a psychologist on Friday after a contestant cracked up:
Sources tell us one contestant, a male designer, "had an episode as the show filmed at Parsons School for Design. A psychologist was brought in to talk to him, but he seemed too nervous and it was decided he should leave the show."
But he wasn't the only one to go.
Just hours earlier a female designer and contestant disappeared from the set. The source told us, "She just ran off in the middle of the night. The next morning she wasn't in her bed, her suitcase was gone. Producers went to her home, and her doorman said she was upstairs but didn't want to see anyone."
Apparently, she was alarmed after ranking in the bottom three after their most recent challenge. Judge Michael Kors gave the remaining contestants a "pep talk" later in the day, and so far, everyone else has stuck around (we think). Anyway: must-see TV!