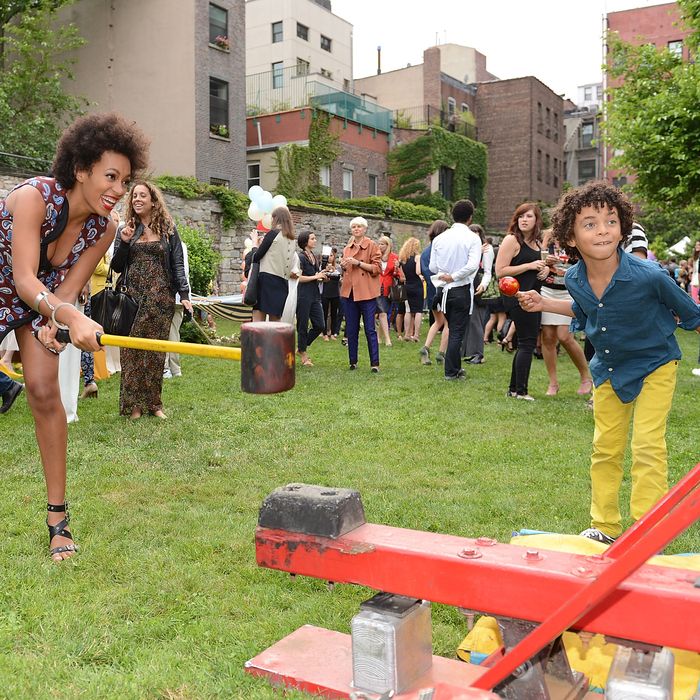 Not your average fashion show.
Photo: Andrew H. Walker/Getty Images
Stella McCartney's carnival-themed resort 2013 presentation was staged in an old cemetery in the East Village, which felt more like a peaceful, secluded little park than a graveyard (the actual graves were built into the wall around the perimeter, so there weren't any headstones). While walking in, we almost tripped over Solange Knowles, who had apparently taken a valiant turn at the high striker and was making a speedy exit. Despite gray skies, the scene was vibrant and cheerful, and there were so many adorable children running around that it seemed like someone had rented a local first-grade class for the evening. There was even a miniature lemonade stand, complete with young ones shouting plaintively over the brass band, "Lemonade! Come and get your lemonade!"
We could go on about the other carnival touches, like the high striker, the make-your-own ice-cream sandwiches, and a pop-the-balloon-with-a-dart game, but there are celebrities and clothes to talk about too. Emily Mortimer sat at a picnic table cuddling a child who we assume belongs to her, while a short-haired Anne Hathaway wandered about talking to Jim Carrey, of all people. We felt very smug for wearing wedge-soled shoes when we overheard several people complain about the stiletto-swallowing lawn. "I'm ruining my new YSL shoes," whined a companion who shall remain nameless. (Update: The heels survived, but the wearer's calves are currently sore.)
Milling around with all the perfect-looking kids and lemonade-sipping guests were the models themselves, which was confusing since we can't always tell models from very tall, well-dressed fashion people. From what we could see, they were wearing lots of bright, carnival-appropriate colors, like citrus yellow and bubblegum pink. Lindsey Wixson chatted with editor friends in a structured, boxy dress made of what looked like thick, white neoprene; we also saw lots of twirl-appropriate fringe. Near the entrance, colorful bags and faux patent leather wedges were displayed on stands like prize-winning pumpkins. It was a far cry from previous carnival-themed fashion events, to be sure — although a bouncy castle would've been a great touch.