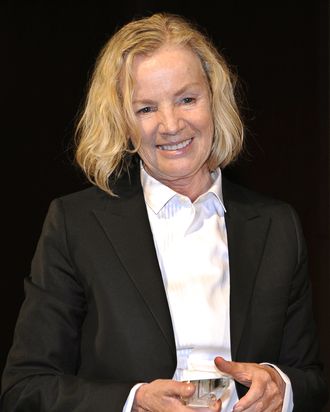 Jil Sander.
Photo: KAZUHIRO NOGI/2010 AFP
After returning to her eponymous brand back in February, Jil Sander plans to present a menswear collection at Milan's Piazza Castello showroom on Saturday. This marks the first time in seven years that Jil Sander clothes will actually be designed by Jil Sander, the person, and based on Suzy Menkes's assessment, two "elephants" might be in the room. One is the ghost of Raf Simons past, who served as creative director of the brand from 2005 until earlier this year and was rumored to have been "unceremoniously dumped" since Sander wanted back in.
Of the second elephant, Menkes writes:
Then there is Phoebe Philo, the 30-something designer at Céline, who has created a female following similar to those women who were wedded to Jil Sander's original style and her serene, no-fuss attitude. Ms. Philo, who has made minimalism her mantra, stood out against the girly glamour of the new millennium. Céline has even offered women streamlined pants — the workhorse of a working mother's wardrobe and an update of the Jil Sander legacy.
Speaking of, guess what Sander is focusing on for her forthcoming womenswear collection: not pants. She tells Menkes that she's "working less on decoration, more on form — pattern-making and materials, with a lot of dresses in the collection — in a good modern way." While she sounds prepared, Sander's comeback hasn't come without questions, including some from her family members, who apparently stick to "What are you thinking?" We'll find out this weekend.