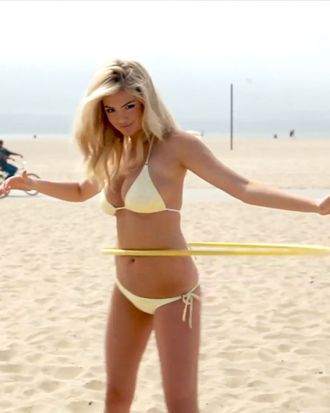 Terry Richardson's first Kate Upton video enjoyed a brief ban by YouTube, which drove all the more traffic to his blog when he re-posted it on Vimeo. (YouTube later revoked the ban, admitting that they'd made "the wrong call," as Kate was technically clothed in the shoot.) Anyway, Richardson's latest entry into his oeuvre might not be so lucky: "The Many Talents of Kate Upton" was taken down sometime last night "as a violation of YouTube's policy on nudity or sexual content." Richardson has yet to re-post it anywhere, although you can be sure that he was prepared for this to happen. Meanwhile, his GIF of Upton is still alive and kicking.
In other Richardson scandal news, yesterday he posted and then quickly removed a photo of a distraught-looking Lindsay Lohan holding a gun to her head at the Chateau Marmont. Of course, taking the photo down didn't prevent it from spreading around the Internet, so … no harm done! (Meanwhile, you can see her nipple-y photos on Richardson's blog, too.) So we're basically one plaid shirt away from a totally ridiculous Lindsay-meets-Kate lingerie photo shoot that will be posted, banned, removed, and re-posted all over the place. 
Update: Oh look, the video is back up again.
* This post has been updated to show that GQ had a hand in making this video, too.