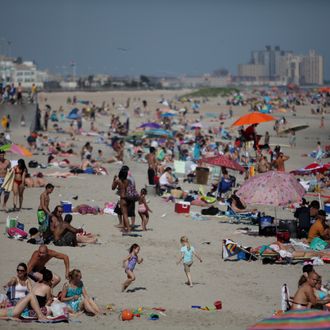 The crowds tend to gather near 92nd St. at Rockaway Beach like this day on Sunday, June 20, 2011.
Photo: The Washington Post/Getty Images
In the newspaper's annual article about how stylish New York City beachgoers are, Guy Trebay recounts the following quote that he overheard on his recent trip to the Far Rockaway boardwalk: "I was, like, I really want to get eyelash extensions, but my friend said: 'Don't! You'll get obsessed and addicted and they just fall out!' So now I want to get an eyelash perm instead!" Sigh, there's no safe space for discussing eyelash perms.