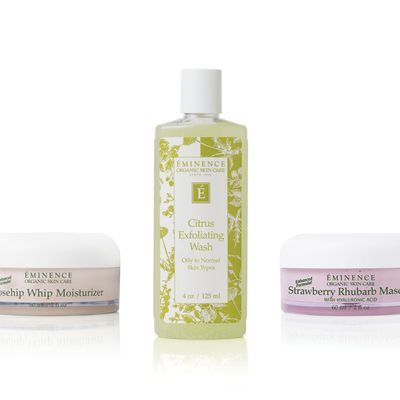 Éminence is my jam.
Photo: Courtesy of ?minence
I wish I could zip line into my desk chair. That way, I wouldn't have to leap over the always-growing mountain of packages surrounding my desk. Inside these packages are beauty products. Tons and tons of beauty products. And while a lot of them are great, the majority of them are also from the usual suspects — huge companies that dominate the drug- and department-store shelves. Which got me thinking: What about the little guys? So, starting with this first post, I'm hoping to introduce you all to some of my more favored, but perhaps lesser-known, goods. First up is the organic Hungarian skin-care line Éminence.
If you know me personally and have asked me what my skin-care regimen consists of, chances are, I've screamed "Éminence!" and begged you to leave me alone. Since I started using the line more than four years ago, people are constantly asking me about my skin and what I use (even during seemingly professional and therefore not-quite-appropriate moments like, ahem, while I was being interviewed for this job) because it tends to be blemish-free, even-toned, and pore-minimized.
So, getting back to the goods, they are what I call "clean" skin care because you will know and be able to pronounce each and all of the ingredients in them — which are mostly fruits — and they don't contain any synthetic or harmful chemicals. The line was first introduced to me by my facialist, Joanna Vargas, who is a firm believer in not putting anything on your skin that you wouldn't put in your body. It might sound "hippie-dippie" (totally something my dad would say), but it makes sense.
And what's more, you'll truly see a difference in your skin. Even though my complexion tends to be more dry (even in the T-zone area), the Citrus Exfoliating Wash is soft enough (due to the silica beads) to use on a pretty regular basis. During the summer, I'll use this to wash my face after a sunscreen-heavy day at the beach. On the in-between days, I've used the Coconut Milk Cleanser for an extra hit of hydration. Some other faves include the Rosehip Whip Moisturizer (rose hip is a natural anti-inflammatory, which is great for those break out moments), and the Strawberry Rhubarb Masque (it smells like candy and makes your skin so soft). Éminence is really only available online or at spas, prices range from $24 to $76, and the packaging looks granny-ish but retro-cool. And I love it. Enjoy.