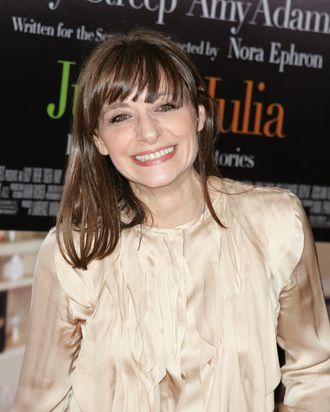 Vogue contributor Joan Juliet Buck.
Photo: Jim Spellman/WireImage
For Vogue's March 2011 issue, frequent contributor Joan Juliet Buck wrote a flattering profile of Syria's first lady, Asma al-Assad, titled "A Rose in the Desert." Buck, like many Americans, has since become an outspoken opponent of Assad's oppressive regime, telling NPR in April 2012 that she regretted the article's positive spin. Her exact quote:
I think that Vogue is always on the lookout for good-looking first ladies because they're a combination of power and beauty and elegance. That's what Vogue is about. And here was this woman who had never given an interview, who was extremely thin and very well-dressed and therefore, qualified to be in Vogue. And they had — Vogue had been trying to get her for quite a long time.
Vogue remained quiet on the matter until this past Sunday, when the Times quoted Buck's NPR interview in an article about Asma's glossy portrayal in Western media. The magazine was presumably contacted for comment, and Anna Wintour issued the following statement, which was also excerpted in the Times piece:
Like many at that time, we were hopeful that the Assad regime would be open to a more progressive society. Subsequent to our interview, as the terrible events of the past year and a half unfolded in Syria, it became clear that its priorities and values were completely at odds with those of Vogue. The escalating atrocities in Syria are unconscionable and we deplore the actions of the Assad regime in the strongest possible terms.
Needless to say, Buck's profile of Asma is nowhere to be found on Vogue.com (it is, however, on the Assads' very own "news" site, here); Vogue reportedly removed it sometime earlier this spring, perhaps hoping that the matter could be swept under the rug. In any case, this is pretty scandalous on all accounts — Buck's characterization of Vogue-appropriate subjects can't be sitting well with her editors, and the magazine itself looks bad for trying to ignore the whole thing (and, of course, for getting called out by one of their own writers, not that Buck said anything we don't already know). Could all this have anything to do with Vogue allowing it to leak today that Lady Gaga is their September cover girl? What a convenient distraction! Did you hear about her concussion? What will she wear?!