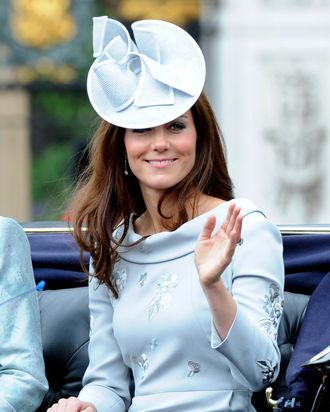 Hats like this don't come cheap.
Photo: Samir Hussein/WireImage
In a few days, Prince Charles will release his financial statements to the public, as he is required to do every year. According to several news outlets, this year's accounts are expected to show that he's been footing the bill for many of Kate Middleton's outfits. Apparently, what she wears for official public appearances can technically come out of Prince Charles's official "Household" budget, which is funded by his Duchy of Cornwall estate. It's been estimated that her clothing, which cannot be gifted, may have cost up to £35,000 (or more than $54,000) since the Royal Wedding, thanks to pieces by high-end designers like Alexander McQueen, Jenny Packham, Roland Mouret, and Matthew Williamson. 
Where else could she be getting the money for her clothes? Her husband does make a salary from his job as a pilot for the RAF — £44,000 per year — and he inherited money from his late mother's estate when he turned 25. Kate could also very well be supplementing their income with money from her own well-to-do parents. What's more, even though all of Kate's clothing must be purchased, what's to stop anyone from giving her a special "friends and family" discount or something along those lines? Brands are so eager to thrust their clothes upon her that it's hard to believe anyone would charge her full price.
You can see more of the duchess's wardrobe in the Kate Middleton Look Book.