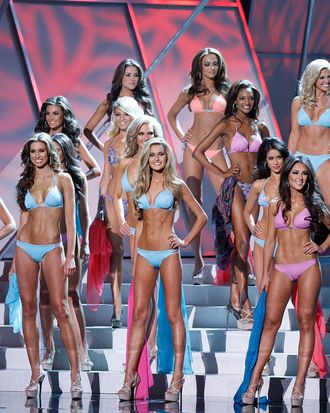 We won't type anything here that can get us into trouble.
Photo: Isaac Brekken/Getty Images
For those of you just tuning in: Sheena Monnin, Miss Pennsylvania USA 2012, resigned yesterday, claiming on Facebook that the weekend's pageant was rigged after another contestant came across a list of who would place in the top five "BEFORE THE SHOW EVER STARTED." Now, in a statement released to E! News, the Miss Universe Organization says that Monnin stepped down for another reason altogether:
In an email to state pageant organizers, she cited the Miss Universe Organization's policy regarding transgendered contestants, implemented two months ago, as the reason for her resignation. Today she has changed her story by publicly making false accusations claiming that the pageant was fixed, however the contestant she privately sourced as her reference has vehemently refuted her most recent claim. We are disappointed that she would attempt to steal the spotlight from Olivia Culpo of Rhode Island on her well-deserved Miss USA win.
The Miss Universe Organization forwarded along said e-mail to E!, in which Monnin writes she won't be "part of a pageant system that has so far and so completely removed itself from its foundational principles as to allow and support natural born males to compete in it. This goes against ever [sic] moral fiber of my being." In fact, Culpo won this year's competition thanks in part to her response to the question "Would you feel it would be fair that a transgender woman wins the Miss USA title over a natural born woman?" Culpo answered:
I do think that it would be fair, but I can understand that people would be a little apprehensive to take that road because there is a tradition of natural born women, but today where there's so many surgeries and so many people out there who have a need to change for a happier life, I do accept that because I believe it's a free country.
The entire discussion stems from 23-year-old Jenna Talackova becoming the first-ever transgendered contestant to participate in the Miss Universe Canada pageant last month. The times, they are a-changin', Sheena … time for another Facebook post, hmmm?
Update: Donald Trump, who runs the Miss Universe Organization, spoke with Good Morning America, calling Monnin's original allegation that the pageant was rigged "ridiculous" and saying that he plans to take her to court:
We're going to be suing her now because she made a charge and she said that it's fixed, and now it turns out that it wasn't fixed … She made a very false charge, and she knows it was a false charge, and she suffers from a thing called loser's remorse. She lost and if you looked at her compared with the people who were in the top fifteen, you'd understand why she's not in the top fifteen.