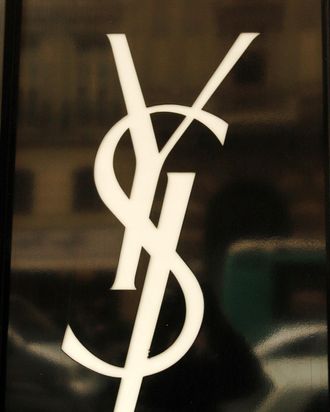 No more?
Photo: JEAN AYISSI/AFP/Getty Images
Come fall, Yves Saint Laurent will do away with the most unpronounceable part of their name (surely to the relief of all the salespeople who have endured customers bungling the word for years — "Yives? Vess?"). Anyway, the label is renaming itself Saint Laurent Paris, according to WWD, as part of a larger branding overhaul spearheaded by new creative director Hedi Slimane. The new name will go into effect by the time that Slimane's first collection for the label hits stores for spring 2013.
What will become of the brand's current initials, YSL, which make up the label's logo (and is what most people call it these days)? Apparently that's sticking around in some capacity, although the specifics are unclear. In other words, the future of that poor little Y seems uncertain at best. How quickly the name change will catch on is another question. "SLP" is hardly a catchy, distinctive set of letters, and vaguely calls to mind SJP, or the word "slop," or SLC Punk. Without further ado, we defer to Sesame Street's ode to Y. Happy Thursday, everybody.