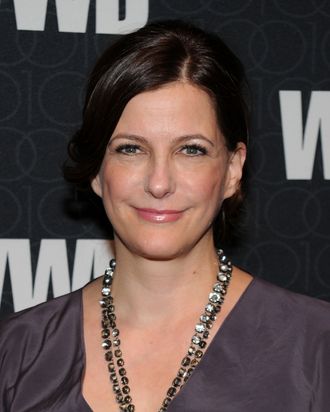 Foley, in happier times.
Photo: Bryan Bedder/Getty Images
Well, not all. But both WWD and the Telegraph ran articles today about their physical baggage. One of Bridget Foley's suitcases disappeared en route to couture week. Its contents:
I am extremely disorganized and tend to over-pack. Couture falls during sale season in New York. Thus, on June 28, the day prior to my departure, I engaged in a considerable wardrobe refresh at Barneys and Bergdorf's. My bag contained multiple tags-still-in-place merch from Lanvin, Jil Sander and Marc Jacobs, along with a few additional current-season pieces and virtually every other warm-weather designer item I have that fits. And three clutches, one each from Dior, Jil Sander and Michael Kors. Happily, I'd sent my shoes via courier.
Though the woman at the Air France baggage complaint center "couldn't have been lovelier," Foley was faced with the task of finding several days' worth of clothes to wear to the shows. So, she headed to "Dries" and Lanvin, dropping "a healthy four figures I'd had no intention of spending after my New York spree." She called Air France and Delta a bunch of times, and enlisted the help of "Alan at Condé Nast travel," alternately being told the bag had been found and didn't exist, or could be one of the hundreds that go missing each week. Eventually, Foley's suitcase made its way home on Monday, after she returned to New York and went to Barneys and Bergdorf's to get replacement receipts so she could file a lost merchandise claim. How frustrating! She ends her column warning, "Delta, you haven't heard the last from me."
Meanwhile, the Telegraph's story isn't as … long. Its key takeaway — some packing wisdom from Vogue China editor-in-chief Angelica Cheung.
Cheung's solution? Intelligent hand-luggage. "I always take three black dresses. One jersey crepe for day, one lace for night, one that can work day or night. I add silk Roger Vivier heeled sandals that work with tights or without and weigh very little, basic cosmetics, decanted into small bottles, and a change of underwear. That can keep me going for several days."
Not a bad idea! That, or get ready to pen a 1,188-word missive to the Airline Gods in the Friday edition of a fashion newspaper.