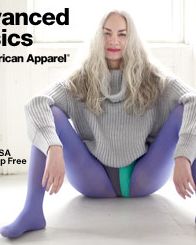 Fashionista got hold of the company's new advertisements starring gray-haired "Jacky," likely Dov Charney's oldest model to date. The site doesn't know Jacky's exact age, writing:
All a rep from AA could tell us at this time was that she was discovered by AA on the street in NYC. She recently moved here and bought her first apartment and these ads mark her modeling debut.
For the Advanced Basics campaign, she shows off sheer button-downs, full skirts, polo shirts, sandals with socks, and a bulky sweater worn over a leotard and tights. But we have an inkling, based on personal experience, that "Advanced" ladies have been shopping at American Apparel for years. At our ballet classes in college, all of the middle-aged dancers dressed in electric-blue Cotton Spandex Jersey Unitards and legwarmers (de rigueur back then) purchased from the American Apparel store next door … probably because it was next door. Such trendsetters! Though, this was in Paris. Maybe that's where Jacky moved here from.