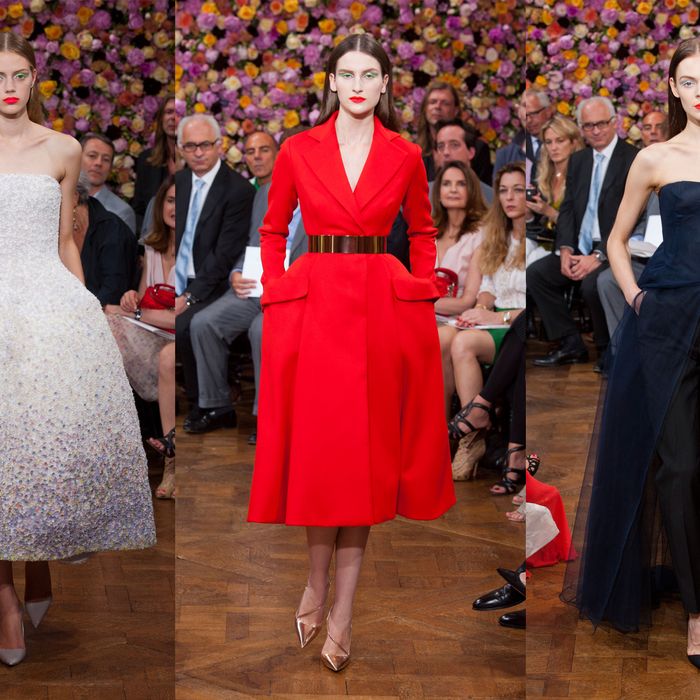 The amount of pressure and anticipation on the shoulders of Raf Simons right now is difficult to exaggerate: In fashion terms, his debut as the new designer at Dior today is like opening night on Broadway, a solo show at the Whitney, and stepping up to bat in the World Series all rolled into one.
So it's fairly amazing that he scored in pretty much every single category possible. The 54 looks he showed in a hôtel particulier in Paris were beautiful, sophisticated, and restrained. They nodded to the history of the house — cinched waists, full skirts — while remaining entirely Simons in feel, which is often the trickiest thing a designer has to handle when taking over the reins somewhere as seriously storied as Christian Dior.
The key is to know where you are, but also to never make it into a period drama. Nicolas Ghesquière does this perfectly at Balenciaga — visiting the archives but inventing a spirit entirely his own — and now Simons has done it perfectly at Dior. There was one red coat in particular that reminded me quite a bit of a red coat that was on Simons's final Jil Sander runway this past September in Milan: Both were signature Simons in terms of the vivid color, the elegant shape, the deceptive simplicity of form, and yet one clearly belonged in a Jil Sander show, while the other clearly belonged at Dior. No small feat!
With a collection like this, it's easy to imagine not only the future of Dior as something far deeper and much more powerful than a name attached to luxury handbags and beautiful flacons of perfume: It's easy to imagine Dior as the very front of fashion once again.
And there's more. The timing of things had Simons debuting during haute couture, as opposed to during ready-to-wear this fall, which means he was working in a fairly new medium — one that involves workrooms that have been in place for years, staffed with some of the most highly skilled seamstresses in the world. If today's results are any evidence, Simons has adapted to this new method beautifully. And he has also addressed the world of couture in a fresh and modern way. The number of customers is famously small, and it is, lately, shifting away from American and European clients to markets in China, India, and Russia. What Simons has done is offer a version of luxury that is so modern and so clean that it may as well have the ability to redefine what is expected of the genre.