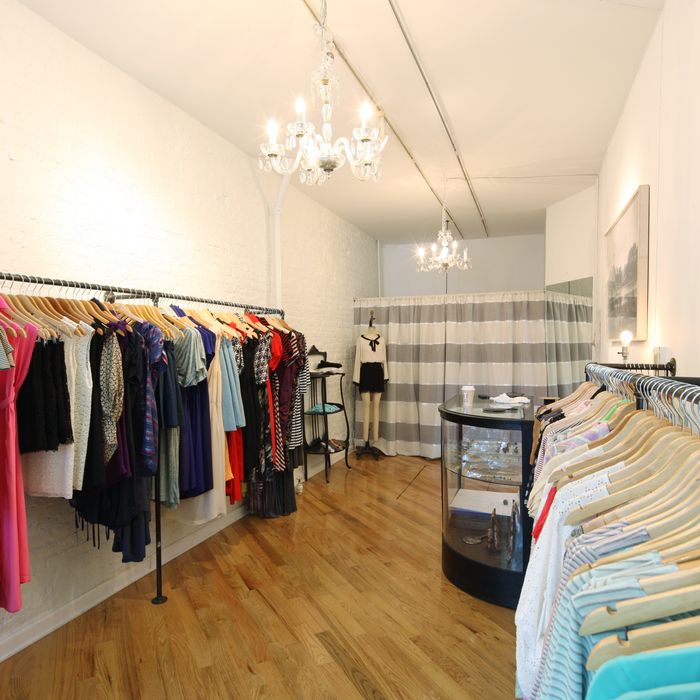 After eighteen years in its East 3rd Street Alphabet City location, designer Kathy Kemp's Anna boutique has a new home on East 11th Street. From the get-go, Kemp says, it was important to her that the store feel like part of the neighborhood, like a bodega that serves the community. And, much like a small grocery store, the stock is updated every week — not with clothes that follow new trends, but with feminine, wearable pieces that transcend season (everything is also produced locally). 
With its white-washed walls, the new location has a minimalist vibe and is meant to feel like the former Anna space, but less chaotic. "[Anna] started in that nineties grunge time — it was more rock and roll-y — which I still love and is still a big inspiration to me, but it was time to pare down and simplify," says Kemp. Hanging on the racks are staple items from the designer that have gained a following over the years: specifically, a leather wrap skirt ($375) and a striped knit top ($60). Click ahead to see the new store and some of our favorite finds.
Anna, 330 E. 11th St., nr. First Ave.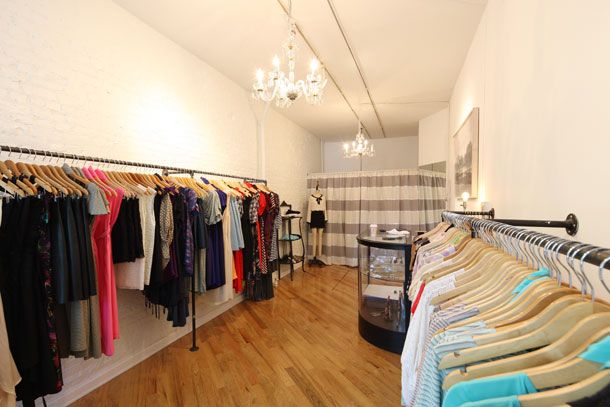 Anna
"Sometimes the more clutter I take away from my life, the more I see the beautiful things around me," Kemp says of the new, more minimalist space. "I'm sure it will get filled up in five years and be just like the old Anna, but bigger."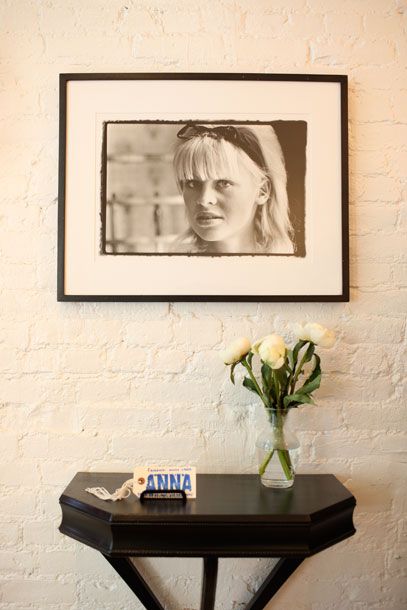 Anna
"We talk to Julie, and we give her a voice. She's like, 'Put me up there in front of the store!'"  Portrait of Julie Christie from the Bronwyn Keenan Gallery.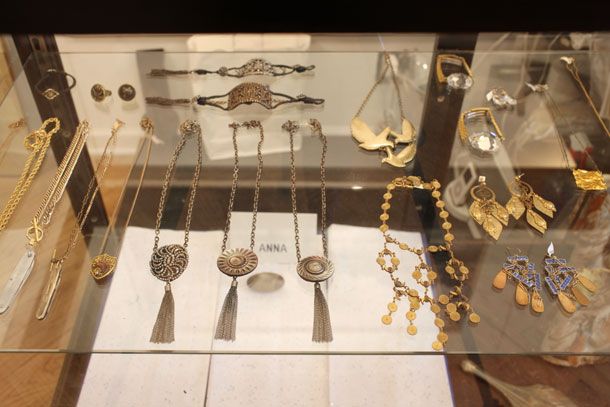 Anna
Anna's jewelry case includes pieces by Heather Nicosia of Three Turtle Doves, with whom Kemp has started a clothing collaboration.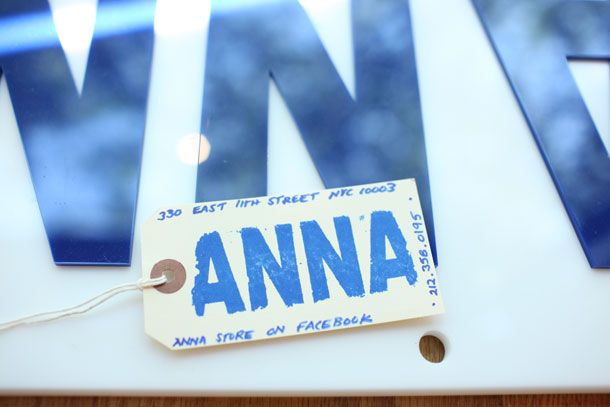 Anna
Kemp traded her old Smythson business cards for these tags after putting one on a shopping bag and falling in love with the look.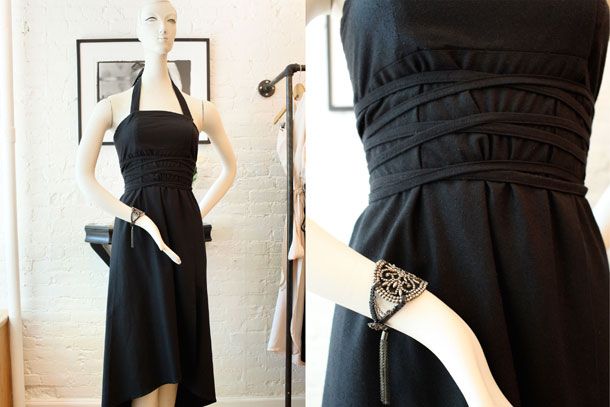 Anna
This raw silk dress is the first piece from Kemp's collaboration with Heather Nicosia. Three Turtle Doves and Kathy Kemp dress ($238), Three Turtle Doves cuff ($299).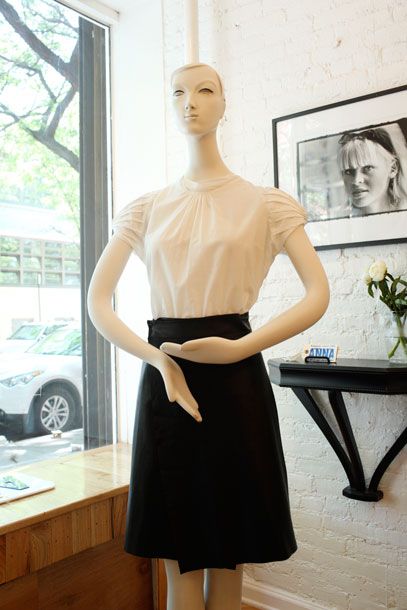 Anna
This easy cotton top is one of Anna's best-selling items because the gathering at the sleeves is particularly flattering on the upper arms. Oragami top ($172), leather wrap skirt ($375).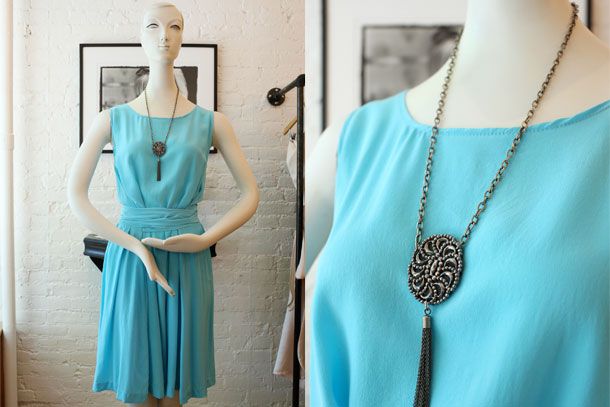 Three Turtle Doves jewelry is made from vintage materials — pieces in this Tusser necklace came from a flea market in Paris. Blue silk Degas dress ($179), Three Turtle Doves Tusser necklace $220.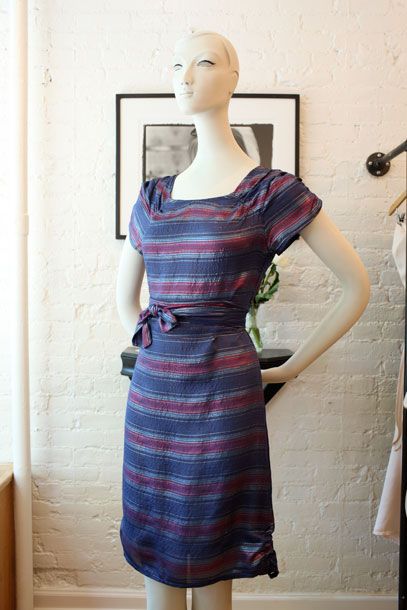 Anna
The sash on this lightweight silk dress can be tied in the front or back to create a figure-flattering cinch. Silk Firecracker Dress $188.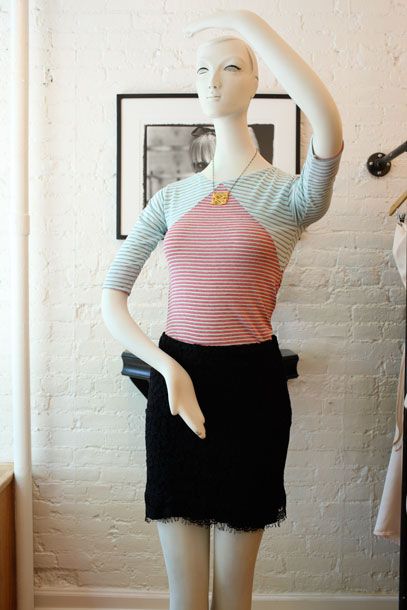 Anna
This striped top is the epitome of Anna's easy vibe. Whether you dress it up with a lace skirt or down with jean shorts, at the end of the day, it's comfortable. The Striped knit T-shirt ($60), lace mini skirt ($175), Renee Kopec 18K gold-plated necklace ($220).