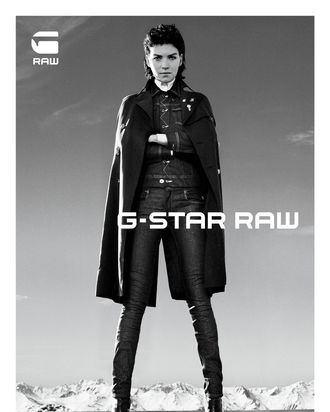 Arizona Muse for G-Star, shot by Anton Corbijn.
Photo: Courtesy of G-Star Raw
G-Star released its new ad campaign today, which stars Arizona Muse with her hair styled into a quasi-mullet. Here's an exclusive look at one of the photos; we also got a Q&A with the model, who e-mailed us from England. 
Your son, Nikko, has been in a bunch of shoots with you. How does he feel about modeling? Is he a ham? 
My son is really good at being on trips with me. He understands what's going on. He grew up with me modeling, so it's quite normal for him to be on a shoot and in pictures because he sees me doing it.
A lot of people would say that your signature pose is a great smile — a nice change from all the normal scowling. How did you make that your trademark?
I don't know why my smile has become a signature pose. I think it's a nice change. I think people want to see happiness, so a smile is what can bring that. I didn't make it my trademark on purpose. I was shot in many editorials smiling, [which is] quite unique. I even was on the cover of French Vogue smiling.
Any fun summer plans? Are you taking a vacation at some point?
I am in England all summer, which I love. We're having an amazing time. I also planned a weekend in Istanbul in August, which I am really excited about, as I always wanted to go there.
How do you get your eyebrows to look so perfect all the time?
I don't have to do a lot to my eyebrows. My mom always told me not to pluck them, which is great advice.