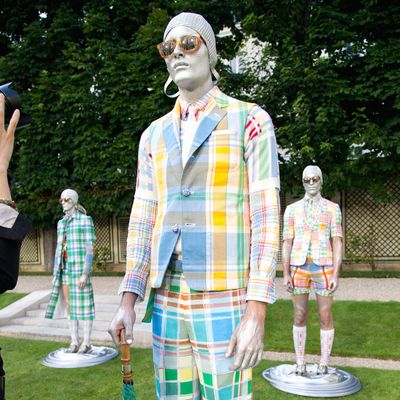 Fashion Week for dudes is not just about the clothes — there's plenty going on from the neck up. In fact, there were so many good (amusing? weird?) beauty and grooming  moments during the spring 2013 menswear shows that we had to whittle them down (some of the better ones to have sadly gotten the ax: pompadours at Roberto Cavalli; slicked-back hair at Louis Vuitton, Pringle of Scotland, and Ports 1962; and a pretty solid unibrow spotted at Rick Owens). Click through our slideshow to see all the zany looks (silver body paint! wigs! gold lips!) that did make it.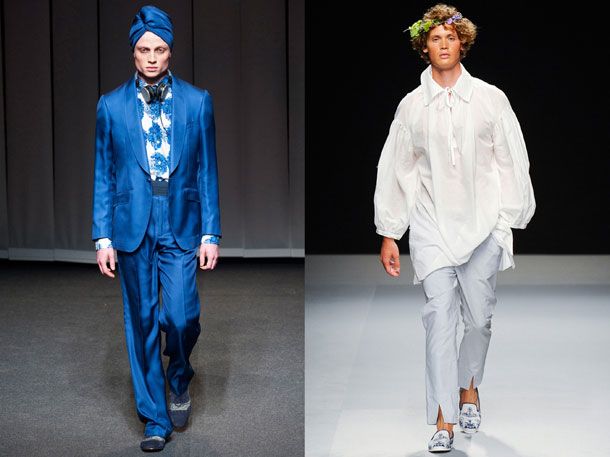 Hair Accessories That Are Not Hats: Etro and Vivienne Westwood
Both of these designers offered a softer side to male hair accessories (i.e., hats). And both are great for the man who likes to DIY.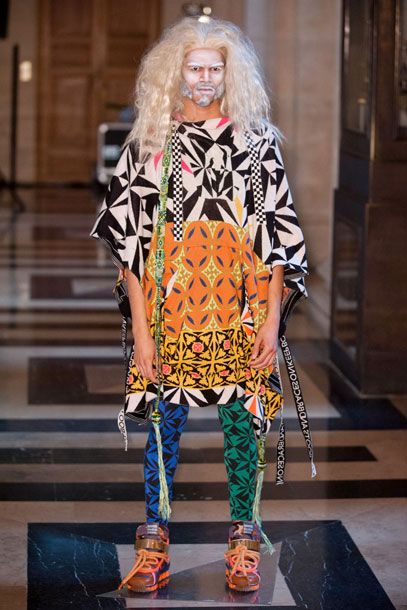 Face Paint and Wigs: Bernhard Willhelm  
Very Kabuki caveman with a little bit of Dee Snider mixed in.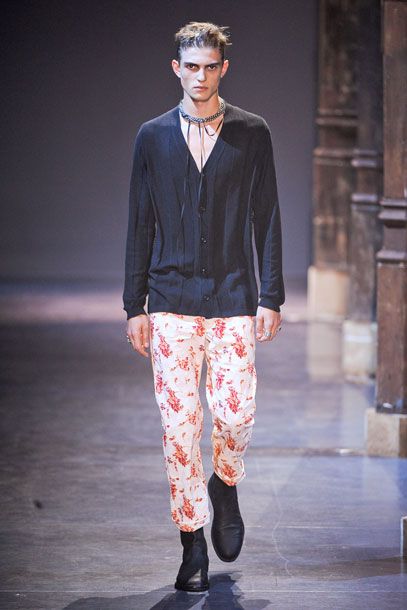 Evil Brows: Ann Demeulemeester
The floral print pants say "I'm sweet and sensitve," but those bold brows say, "I'm going to destroy the world unless you give me ONE MIIILLION DOLLARS."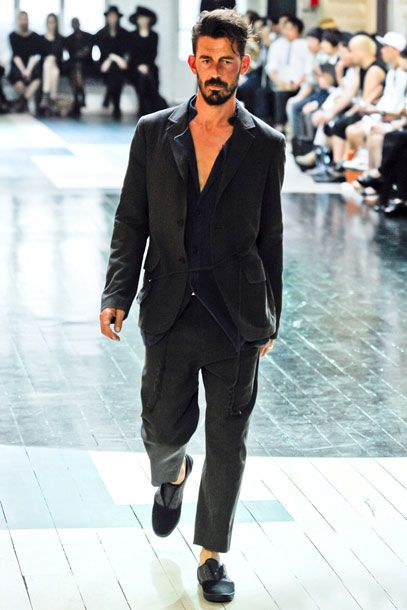 Special Effects Makeup: Yohji Yamamoto Menswear
The first rule about Fashion Fight Club is that you silently judge everyone else's cuts and bruises.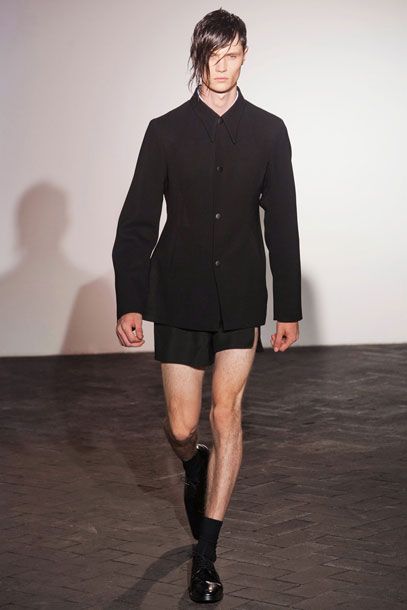 Stefon Hair: Raf Simons
It about time the style of our beloved Stefon of SNL hit the fashion sphere.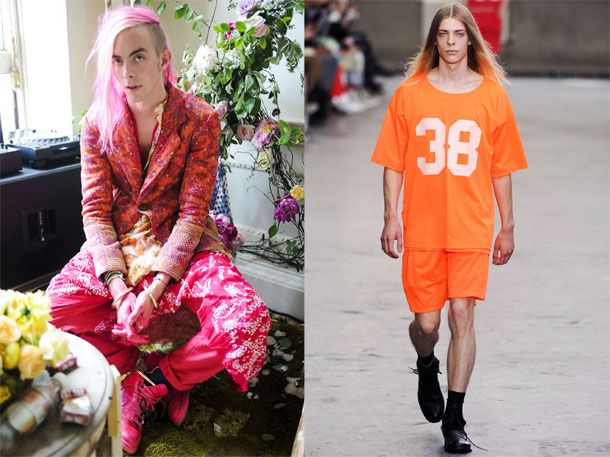 Colored Hair: Meadham Kirchoff and Topman
These guys are totally bronies.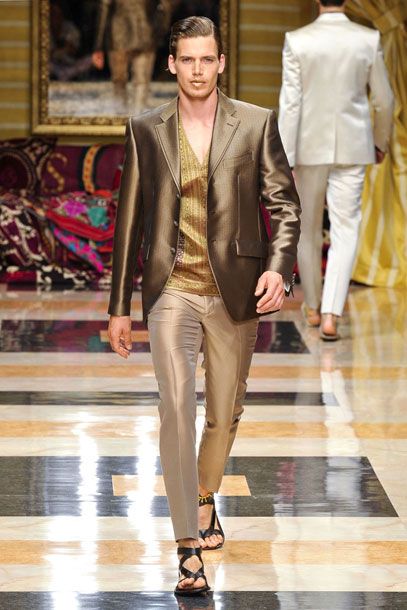 Gold Makeup: Carlo Pignatelli
Looks like someone has been spending time with C-3PO.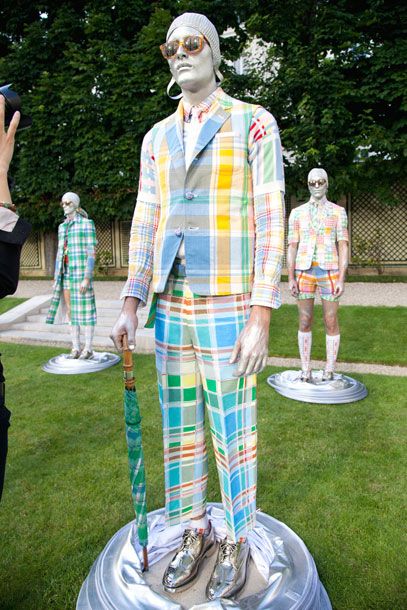 Body Paint: Thom Browne
When male models attempt to mimic NYC street performers …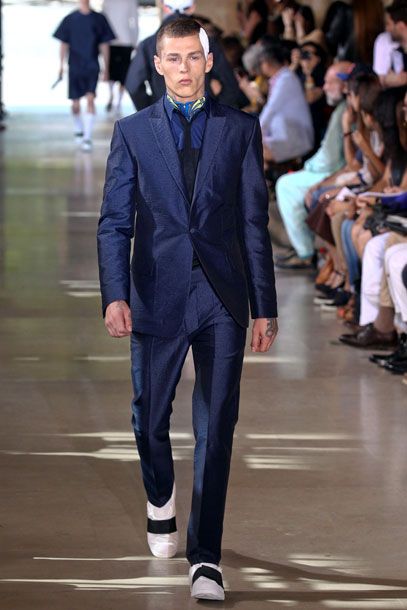 Cruella-Inspired Hair: Quasimi Homme
These models are 101 dalmations away from still not being the evilist furrier in all the land.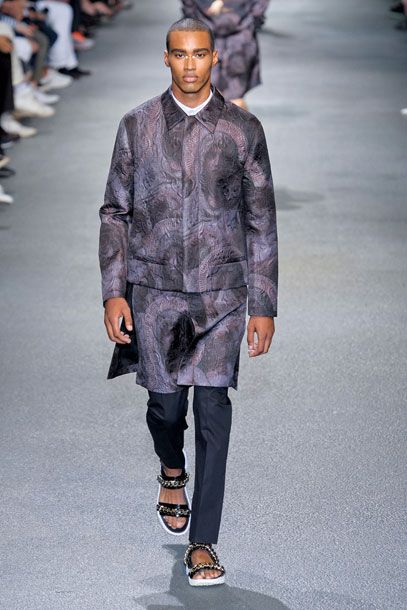 Faux Bridge Piercing: Givenchy
If you want to give your mom a heart attack, this is the way to do it (the gold lipstick is fine, though).