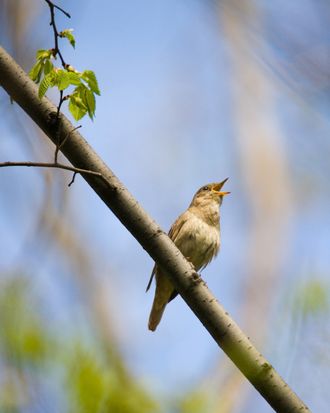 This little guy's poop might make your skin wrinkle-free.
Photo: Maslov Dmitry
You know that saying "If a bird poops on you, it's good luck"? Well, now, apparently, it can also give you a smoother, more glow-y appearance when applied directly to your face. According to an article published in the New York Times, facials that incorporate the stuff are all the rage at Manhattan's Shikuza Day Spa:
The treatment, I was told by Asako Nunose, the aesthetician, originated centuries ago when Japanese entertainers damaged their skin from the high lead level in their white makeup. As a remedy, they used a mask containing nightingale droppings that had enzymes said to break down dead skin cells. For this modernized hourlong version, which costs $180, the excrement is sanitized under ultraviolet light, then mixed with rice bran, an exfoliant and brightener. Because the poop contains guanine, a nucleobase, it supposedly shines the skin as well.
Other creatures, not necessarily for their poop, are being tapped for their skin-preserving qualities as well — and, surprise, famous people are getting in on the action:
Some of these consumers are famous, like the Duchess of Cornwall and Gwyneth Paltrow, who have reportedly tried the Bee Venom mask, the creation of Deborah Mitchell, a beauty specialist. According to promotional literature, bee venom is said to freeze muscles, creating a Botox-like effect.
But putting all that crap on your face (worm poop is the main ingredient in an antiaging cream called Wrinkle Butter) might not be that worthwhile. The true scientific efficacy of these new products has yet to be shown in legitimate, quantifiable results, according to Dr. Joshua Zeichner, director of cosmetic and clinical research in the dermatology department at Mount Sinai Hospital in New York:
Drug companies have strict testing guidelines and different protocols from over-the-counter cosmetics. "We have very little data to know if those cosmetics work," Dr. Zeichner said. "Perhaps all they do is moisturize. But these animal ingredients have some medical research behind them. All we can do is to wait and see how well they work."
But the bigger question remains: Does PETA have a stance on this?