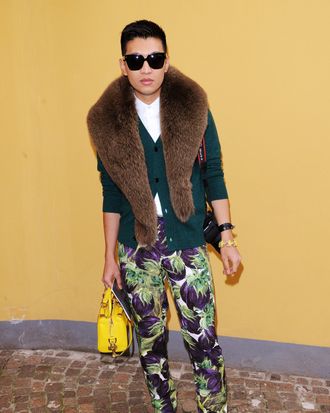 Paper-thrower.
Photo: Venturelli/WireImage for Fendi
Fashionista tracked down Bryanboy to talk about his new video series for Dolce & Gabbana (in which he pretends to work a bunch of different jobs, excluding model, because he's "too fiercely real as Tyra says"), the possibility of working on a project with Fashion Toast's Rumi Neely, and his experience on ANTM. The blogger still manages to avoid defining exactly what his role is on the upcoming cycle — though last month, we decided that he's doing crowd control for the social media fans — but he does say he signed a one-season contract.
Bryanboy continues:
Being on that panel is not easy. We would tape for five hours and I remember for the first five episodes you'll see me very, very quiet, thinking about what I should say, but in the end I was like, you know, I'm just going to show the real me. I threw paper at a girl, I made the girls cry, I cried.
Then everyone had a good laugh … right?