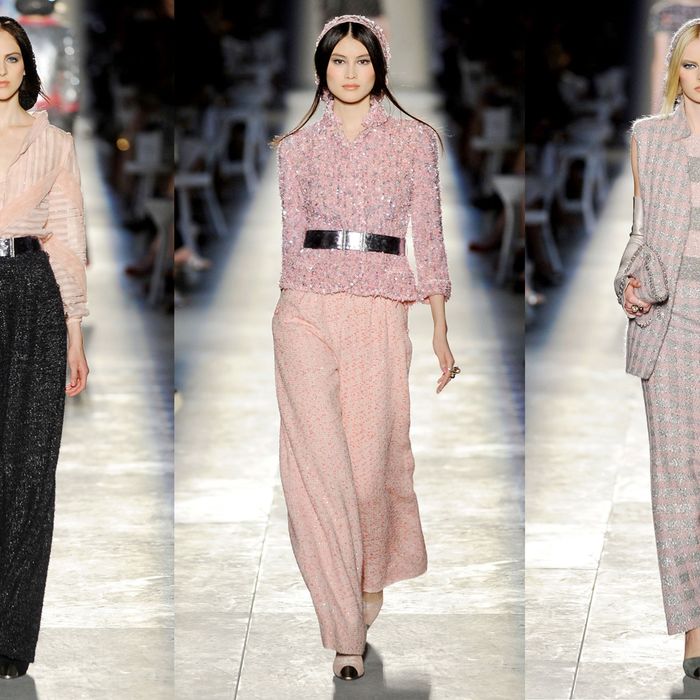 Looks from the Chanel couture collection.
Photo: Imaxtree
Karl Lagerfeld cryptically described his latest Chanel couture collection to the IHT's Suzy Menkes as "[n]ew vintage — for today," presumably meaning that he referenced the house's founder more so than usual.* Indeed, the collection had lots of loose, high-waisted pants, rendered in muted grays and pinks, much like the ones that Coco Chanel was said to have fashioned for herself to go horseback riding. But while the wool, cashmere, and fur materials were even more touchable-looking than usual (thanks to Choupette's cuddly influence, which even inspired a namesake handbag), Menkes wasn't totally sold:
But fashion now is not about the actuality of intricate handwork, however beautiful. It is about perception. And the problem with this collection, for all its genteel and fragile beauty, is that it seemed dull — although there were lovely pieces, like a black velvet dress with a frilled pocket in the skirt, and pants in a patchwork of lace.

The root problem was that this is not a moment to look back. It is time to clear the closet, strip everything down to clean lines and make decoration sparse. (We are talking about the Raf Simons debut at Dior here.)
You see, every designer will be compared to Simons this season. Of course, Menkes was careful to say that she still thought the collection was beautiful, as did Newsweek's Robin Givhan, who drew Lagerfeld's ire when she dared critique him a few months ago. Givhan wrote yesterday:
The suits and day dresses were among the most compelling pieces on designer Karl Lagerfeld's runway at the Grand Palais. They were crafted with both control and audacity … These are not the clothes of an executive. They are the frocks worn by the woman who owns the entire corporation and a host of subsidiaries. And if boardroom fashion can be a game of strategic intimidation, then these clothes are akin to a hostile takeover.
So, perhaps not so dull for everyone? Choupette is not to be underestimated, after all.
* Yes, we meant Suzy Menkes, not Cathy Horyn. Obviously, our brains are still at the beach.