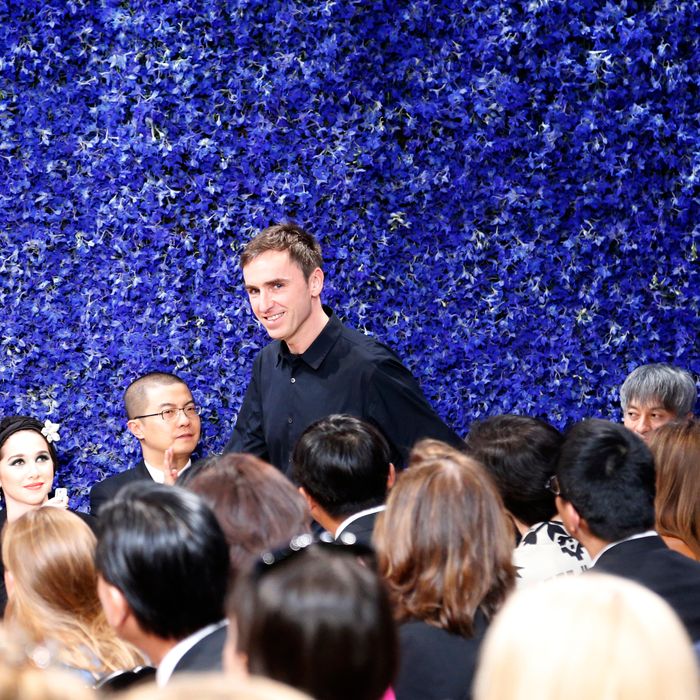 Raf takes his bow at the conclusion of Dior yesterday.
Photo: FRANCOIS GUILLOT/AFP/GettyImages
Of his maiden voyage for Dior yesterday — and his first couture show, at that — Raf Simons confirmed to Style.com that he referenced Christian Dior's heyday, the decade between 1947 and 1957. But every designer that works with a storied old fashion house like Dior must cull some inspirations from the archives, so what made Simons's couture pieces look different? In his own words:
[I am trying] to change the psychology of people who are interested in couture. The way I've been looking at it so far is as a still image, something you look at for that moment. I think lots of people see it as a still, an image from the red carpet. I want to make it more dynamic, appeal to a person who has a different energy. A younger person, in mind, not necessarily in age. And I think couture is very much about curating something unique for women. Fashion is so mass-produced now; I hope there will come a refocus on how people see couture. And I would also hope for a new focus on the craft.
In other words, Simons's clothes do not have to be ornate or fantastical to have the elaborate, rich, and complex quality that couture pieces should. His designs may look simple on a runway, but in reality they are not, and critics were eager to point this out in their overwhelmingly positive reviews. The Times's Cathy Horyn enthused:
His clothes are often so simple that you have to look at them for a while before you see the small gesture or the magisterial way of sleeveless black crepe falls over the body. He gets the most and the best out of couture, and this is just the start.
Meanwhile, the Telegraph's Lisa Armstrong echoed many of the same sentiments:
By avoiding theatrical gimmicks, he ran the risk of looking as though he hadn't done much, but this was a clever, subtle reworking of Dior's DNA, which promises well for collections to come, and delivered all that he wanted.
Finally, WWD's critics offered this praise:
A glorious reality permeated Simons' clothes. Walking into a house and finding at his sudden disposal Dior's vast resources both outside it (that flower budget!) and within (the miraculously skilled atelier), even a confirmed minimalist renowned for his control might have gone a little mad.

Not Simons. Not once. His first look said it all: a tuxedo featuring a Bar jacket of modified cut so that it looked more suited to a chic dinner party this evening than a 1948 fashion spread…

Still, young actresses and young Eastern money aside, at its heart couture remains far from a girlish indulgence. Simons brilliantly handled the back-and-forth between sophisticated elegance and the younger end of his range, always with a fierce focus on construction and subtly of detail.
In fact, not one major critic breathed a word of dissent, and everyone loved it for all the same reasons: It was pretty, unfussy, and beautifully made — a truly lovely collection. But after all this anticipation, would anyone have dared to be disappointed?